The information below has been supplied by dairy marketers and other industry organizations. It has not been edited, verified or endorsed by Hoard's Dairyman.
One of the UK's most respected cheesemakers, Quicke's will launch its first ever mixed milk cheese into several Whole Foods Market stores later this month, with stores across the US set to stock wedges of the 6-month matured clothbound cheese, Lady Prue.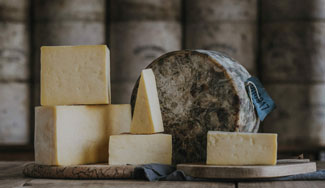 Named after Mary Quicke MBE's mother, who built the original cheese dairy in Devon, England during the 1970s, Lady Prue has been created exclusively for the US market. Combining goat's and cow's milk to produce a youthful, pale and delicate cheese, with a subtle taste of goat and a gentle caramelly hint, the cheese has already landed its first major international award, winning a Silver at the World Cheese Awards in November 2018.
Joining Whole Foods Market's extensive line-up of cheeses from around the world, Quicke's newest cheese will be available from stores in the Pacific Northwest, South, North Atlantic, Mid-Atlantic, Midwest and Northern California. One of only a handful of mixed milk cheeses currently being made in the UK, Lady Prue embodies both Quicke's rich heritage and its continued dedication to experimentation and innovation, bringing a true taste of Devon to cheese counters across the country.
Mary Quicke MBE explains: "Harking back to the very first truckles made at Home Farm, this cheese encapsulates so much about our past, present and future. My mother, Prue was trained as an artist and later established the dairy – with six children in tow – and it's her artistry which still runs through the veins of the business today, pushing us to experiment with our craft. This commitment to pushing boundaries led us to mix goat's and cow's milk with the US market in mind and we're delighted to be launching the resulting cheese into Whole Foods Market stores this month. As such big advocates of quality, provenance, sustainability and artisan cheesemaking in general, we couldn't think of a better home for Lady Prue, so we can't wait for our truckles to land on US soil and make their way from coast to coast.
Quicke's
Nurturing the family's land for 14 generations,
Quicke's
crafts outstanding cheese from an idyllic corner of Devon, England. Understanding that great cheesemaking is an art, which begins out in the fields, Quicke's farmers carefully manage their ancient pastures, feeding specially-bred cows on lush grass year-round so that they give the very best milk, a true expression of the landscape from which it came. The milk is collected each morning using time-honoured methods and each truckle is handmade, cloth-bound and slow-matured in the cool quiet of the farm's maturing rooms.
Offering a selection of critically acclaimed Clothbound Cheddars, from a 3-month matured Buttery Cheddar to a 2-year matured Vintage Cheddar, Quicke's combines a respect for the land with a passionate pursuit for innovation. The Quicke's range also includes Oak Smoked Clothbound Cheddar, Elderflower Clothbound Cheese, Devonshire Red Clothbound Cheese, Double Devonshire Clothbound Cheese, and Goat's Milk Clothbound Cheese, as well as whey butters made from this by-product of the cheesemaking process.