The information below has been supplied by dairy marketers and other industry organizations. It has not been edited, verified or endorsed by Hoard's Dairyman.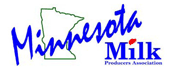 The Minnesota Milk Producers Association 2019 Producer of the Year is Miron Farm, Hugo, Minn. The Miron Farm includes Fran and Mary Ann Miron, their sons Paul and Andrew Miron, as well as their families. The honor will be formally bestowed on Dec. 3, during the Minnesota Milk Dairy Conference & Expo at Treasure Island Resort and Casino in Welch, Minn. Miron Farm was selected based on their extensive involvement with their urban neighbors and the agricultural community.
Miron Farm was established in 1887. The family now milks 120 cows and farms 800 acres of crops. "Our grandchildren represent the sixth generation to live on this land, eat its food, drink its water and enjoy life," says Mary Ann. While Paul and Andrew live on the farm, Fran and Mary Ann have four additional children connected to their community, all working as agriculture or elementary school teachers.
"Dairy farming is truly a vocation which requires commitment to faith, family, friends and our farm," said Fran. The family has remained active within the dairy industry and their growing community of Hugo for many years. Involvement includes Fran serving on the Hugo city council, 16 years as the Mayor of Hugo, Minnesota Farm Bureau Federation Board of Directors and as a Washington County Commissioner. Several family members are involved in local dairy promotion, Dairy Herd Improvement and Farm Bureau boards as well.
This fall, Miron Farm hosted 2,000 people at the Washington County Breakfast on the Farm, featuring a pancake breakfast and a variety of farm activities to connect consumers to local agriculture and dairy farming.
As the Producer of the Year, the family receives a scholarship toward educational programming, a trip to the Minnesota Milk Dairy Conference and Expo, and a framed and matted art print.
ABOUT MINNESOTA MILK
Minnesota Milk Producers Association is a membership organization representing grassroots dairy farmers through policy work, education and membership development. Our work is vital to the future of Minnesota's dairy industry and is directed by a board of dairy farmers elected by their peers. For more information, visit www.mnmilk.org.