The information below has been supplied by dairy marketers and other industry organizations. It has not been edited, verified or endorsed by Hoard's Dairyman.
The American Feed Industry Association (AFIA) congratulates the bi-partisan passage of the U.S.-Mexico-Canada Agreement (USMCA) today by the U.S. House of Representatives.
The long-awaited passage by the House is a momentous step forward in finalizing a more than two-year process of renegotiating our most critical trade agreement. Trade with Canada and Mexico is tremendously important to the animal feed, ingredient and pet food industry with exports more than quadrupling since the inception of the North American Free Trade Agreement 25 years ago.
"Today is a big step forward for American agriculture and the animal food industry," said Constance Cullman, AFIA's president and CEO. "The USMCA builds upon an already great agreement with our neighbors to preserve and expand market access for the animal food and livestock industries while providing much needed stability across the agriculture sector."
AFIA appreciates the hard work of President Trump, Ambassador Lighthizer, House leadership, and members of the Ways and Means Committee who worked so hard to secure an updated agreement. AFIA now urges the Senate to quickly take up and pass this landmark agreement.
About AFIA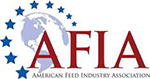 Founded in 1909, the
American Feed Industry Association
(AFIA), based in Arlington, Va., is the world's largest organization devoted exclusively to representing the business, legislative and regulatory interests of the U.S. animal food industry and its suppliers. The organization's membership is comprised of more than 680 domestic and international companies that represent the total feed industry—manufacturers of commercial and integrated feed and pet food, ingredient suppliers, pharmaceutical companies, industry support and equipment manufacturers. AFIA members manufacture more than 75 percent of the feed and 70 percent of the non-grain ingredients used in the country. AFIA is also recognized as the leader on international industry developments, and holds membership in the International Feed Industry Federation (IFIF).