The information below has been supplied by dairy marketers and other industry organizations. It has not been edited, verified or endorsed by Hoard's Dairyman.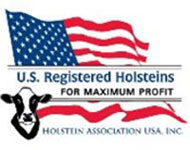 Two new bulls have recently been made available through the Holstein Marketplace Sires program, managed by Holstein Services, Inc. Introduced in January 2019, Holstein Marketplace Sires provides a unique avenue for Holstein breeders to market their genetics. Under the program, bull owners retain ownership of the bulls, and Holstein Marketplace Sires coordinates marketing and sales.
Visit www.holsteinusa.com/marketplacesires to view complete pedigree and genetic information on these new bulls, and the other Marketplace Sires currently available.
The site features many generations of photos from their maternal lines, and commentary from the bull owners.
New Releases
712HO01010 KINGS-RANSOM C CRUISIN-ET,

bred and owned by Kings-Ransom Farm LLC, Schuylerville, N.Y.

CRUISIN is sired by OH-River-Syc Crushabull-ET out of Excellent-94 Kings-Ransom Monterey Clash with a second lactation record of over 29,600 pounds of milk, with 1,193 pounds of fat (4.0%) and 928 pounds of protein (3.1%). His next dam is EX-95 2E Kings-Ransom Mogul Cleo-ET who boasts lifetime production of over 153,000 pounds of milk with 4.6% fat and 3.3% protein tests. In total, CRUISIN is backed by 11 generations of high-scoring Excellent dams, going back to "Queen of the Breed" C GLENRIDGE CITATION ROXY, and his 10 closest dams average 93.1 points. His genomic conformation values back up the pedigree, at +2.98 PTA Type, +2.63 Udder Composite and +1.35 Feet & Leg Composite. CRUISIN is also Beta Casein A2/A2.
712HO01009 TRAMILDA STUNNING BLAZER

, bred and owned by Troy & Austin Yoder, Montezuma, Ga. BLAZER is a Kingemerling Helx Doctor-ET son, out of a Very Good-87 Delta, then a Very Good-85 Chevrolet. BLAZER has a well-balanced, modern genomic profile, being over +1,400 pounds PTA Milk, with 118 pounds combined Fat and Protein, with positive health and fertility traits and desirable conformation values (+1.67 PTA Type, +1.73 Udder Composite and +1.20 Feet & Leg Composite).
Other bulls currently available through Holstein Marketplace Sires
712HO01006 RASBERRY CRSBL RIP CITY-ET: Crushabull x VG-85 Monterey x EX-91 Epic, then 17 more generations of Excellent dams behind her, tracing back to Audrey Posch EX-93 2E GMD. RIP CITY boasts impressive conformation values at +3.16 PTA Type, +2.55 Udder Composite and +1.48 Feet & Leg Composite, complemented by positive component percentages and Fertility Index values. Owned by Karl & Donna Hale, Cloverdale, Ore.
712HO01005 OUR-FAVORITE CHARISMA-ET: King Doc x VG-88 Hang Time x EX-94 2E Atwood from one of Our-Favorite Holstein's foundational cow families; 10 generations of Very Good & Excellent dams with an average classification of 91.2 points. +2586 GTPI with very strong conformation at +3.29 PTAT, +1.96 UDC, and +1.92 FLC; also, Beta Casein A2/A2 and Kappa Casein BB. Bred and owned by Our-Favorite Holsteins, Fall Creek, Wis.
712HO01008 OCD KENOBI FOGHAT-ET: Kenobi x VG-87 Burley x EX-90 Delta, FOGHAT is backed by a total of 11 generations of Very Good and Excellent dams, going back through the Markwell Bstar E Raven-ET EX-95 3E GMD DOM cow family. With a 2809 GTPI, he brings a package of high component percentages with a combined 114 pounds of PTA Fat and PTA Protein, along with desirable health traits; +5.2 Productive Life, +1.9 Cow Livability and +2.4 Daughter Pregnancy Rate. Bred and owned by Oakfield Corners Dairy, Oakfield, N.Y.
712HO01007 TERRA-LINDA RYNO-ET: Tahiti x VG-86 Modesty x EX-90 Montross, RYNO hails from the Robthom Georgia Integrity EX-92 2E GMD DOM cow family through a strong maternal line. He is a well-balanced bull, coming in at +2726 GTPI, with strong production numbers of +1,148 PTA Milk and a combined 119 pounds of PTA Fat and PTA Protein, also being Beta Casein A2/A2. RYNO is positive in his fertility traits, is +1.37 PTA Type and +1.39 Udder Composite. Bred and owned by Terra Linda Dairy, Tulare, Calif.
All bulls offered through Holstein Marketplace Sires are free of any undesirable genetic conditions and haplotypes impacting fertility.
Purchasing semen from Holstein Marketplace Sires is simple. Order online or over the phone with your credit card and have semen shipped directly to your doorstep. Buy online by visiting www.holsteinusa.com/marketplacesires, click the red "Buy Now" button, fill in number of units you would like to purchase, and check out using our secure online system. Orders may also be placed by calling customer service 800.952.5200 or contacting a Holstein Association USA regional sales representative.