Vaccinations are top of mind for most people right now, as the first COVID-19 vaccines for Americans were distributed this week. While not everyone is rushing to get in line for their dose, it is certainly a turning point in the fight against the current global pandemic. That being said, access to COVID-19 vaccines will not magically return our lives to "normal" overnight.
That's because vaccinations are part of a long-term health strategy, for humans as well as animals. In a Cowside Conversations Podcast produced by the Center for Dairy Excellence, Nate Heim talked about why they use vaccinations in their herd. Heim is the general manager of Yippie! Farms, a Pennsylvania dairy owned by Arlin and Deborah Benner. They milk 2,300 cows and raise 1,100 heifers at two locations.
The value of a strict vaccination protocol was highlighted when Yippie! Farms expanded in April of 2017. They purchased another farm, and in the first six months, bought 1,000 cows.
"In the beginning, it was a learning curve when we started buying in animals," Heim said. He explained that at first, they were buying cattle from multiple sources and having a lot of health issues. They quickly learned that the best approach for them was to purchase cattle directly from other farms in larger groups.
"By talking with the farms, we could learn their health protocols and vaccinations," Heim said. "It helped animals adjust a lot better."
Still, with all the animals that were purchased, Heim said some health issues were brought into the herd. "Through that, we had to continually change and make improvements to our vaccination protocols, especially in calves. We found they were exposed to different stuff through the mothers," Heim explained.
He said there was a lag, but two years after the herd expansion, sickness erupted in the calves. "We ran into a bunch of herd issues we never had," Heim said. He noted that some of these problems might have been in the herd all along, but with the additions made to the farm, "the combination was like wildfire," he said.
"We had to go through and completely redo our calf vaccination protocol and change how we fed calves," he said. "For us, we had some issues with cattle we brought in, but it also exposed where our weaknesses were in our program. So, we made a lot of changes."
Heim said, "In a perfect world, you wouldn't have any issues. But the reality is, on most dairy farms, you are going to have health exposures."
To assess the success of a vaccination program, Heim advised, "Try to determine risk by not looking at the individual animal that gets sick, but look at the whole. Obviously, you are going to have some animals that get sick, but as long as the majority are doing well, that's the long-term solution."
The goal is to limit the spread to the other animals, but Heim reminded, "You are not going to eradicate problems overnight; it's a work in progress. We are trying to set up the next generation to be better than the previous generation."
As for his advice to other producers, Heim said, "Some people get caught up on the initial cost of vaccinations, but if you look at the big scheme of it, it's not that much money if you can save one or two cows out of one hundred."
For their farm, he added, "For us, the big thing is to set that animal to be the most productive and profitable cow down the road."
---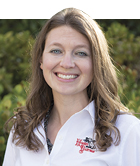 Abby Bauer
The author is an associate editor and covers animal health, dairy housing and equipment, and nutrient management. She grew up on a dairy farm near Plymouth, Wis., and previously served as a University of Wisconsin agricultural extension agent. She received a master's degree from North Carolina State University and a bachelor's from University of Wisconsin-Madison.