We all know farmers who never really retire. Agriculture is their lifelong passion, and the farm is where they want to spend the rest of their life. This is a story about one such farmer.
John James Haygood III was a farmer through and through. After his unexpected passing this winter, his family was able to fulfill one of his last wishes: to check his crop fields one more time.
John grew up on his family's dairy farm near Yatesville, Ga. His grandmother, Annie, started the dairy in September 1928, transitioning from cotton to dairy farming after boll weevil ruined cash cropping in their area. She had two sons, John James Haygood Jr. and Jefferson Bentley Haygood, who operated the farm after her. As they neared retirement age, they said to their sons, John James Haygood III and Jefferson Bentley Haygood Jr., "If you want this farm, you can do something with it."
Both young men did. After high school, John started his full-time career as a farmer and never looked back, partnering with his cousin Jeff on their dairy and crop operation. It grew over the years, reaching a herd size of 500 cows milked twice a day by the 1990s. In more recent years, they added poultry and then beef and downsized the dairy to a herd of 50 milk cows.
John and his wife, Angeli, raised four daughters on the farm, and he was proud to share this lifestyle with the farm's fifth generation, his six grandsons and one granddaughter, as well.
"The farm and our family were my dad's life," his daughter, Katie, explained.
"He treasured the fact that it was a family business. He wanted to create in his grandkids a sense of heritage and a love of farming," added Lori, another daughter.
About a year ago, Lori said John was having a check-up prior to what was supposed to be a standard knee replacement. At that time, they found he had non-alcoholic cirrhosis of the liver, and it had progressed to the point of needing a liver transplant.
With livers for transplant limited in availability, the doctors encouraged the Haygood family to look for a living donor by talking to people they knew and posting on social media. They were hesitant to do this at first, but once they did, they were blown away by the response. "We never expected that many people to step up," Lori said with gratitude.
A man that had gone to school with the four Haygood girls was one of the many volunteers who completed the paperwork and got tested, and he ended up being the perfect match. Lori said this gentleman felt called by God to do this, and she said her family was so thankful for his selfless act.
John was so excited for the operation and the opportunity to feel better so he could get back to what he loved to do – farming. However, after surgery he got an infection, and then went into septic shock. Katie said there was one complication after another, and he passed away on January 17, 2021.


Making this turn of events even more difficult was the ongoing COVID-19 pandemic, which kept family members distanced from John during his final days. Lori explained that they dropped him off at the hospital for surgery on December 15 and never got to see him again.
In conversations with Angeli, John had said that after he died, he wanted to ride through his farm fields one more time. While the family was not sure exactly how to make this happen at first, they soon determined that it would actually work out perfectly, as a memorial in the field would allow for a safe, socially distanced tribute to their father. He had so many friends and supporters through his illness, they wanted to be able to allow people to pay their respects.


Lori said the day of the funeral was a "bluebird day" with beautiful, sunny weather, and hundreds of people came to the farm. Angeli and the grandchildren rode in John's beloved old farm truck with his casket on the back. Ahead of them, Jeff drove another vehicle carrying John's four daughters. They rode through the fields to the pond, where the grandchildren released quails and everyone prayed.
"My dad loved being a farmer," Lori shared. When he was sick, he still ran the business operations from the house, but "he longed to be out there on the farm," she said.
She said the fields they drove through that sunny January day were not just representative of the hard work and all that was done with the farm; they also carried memories of many family gatherings and fun times. While the Haygood family is mourning the loss of John, they found comfort in being able to give their lifelong farmer one last ride to check the fields he had tended to for many years.
---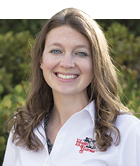 Abby Bauer
The author is an associate editor and covers animal health, dairy housing and equipment, and nutrient management. She grew up on a dairy farm near Plymouth, Wis., and previously served as a University of Wisconsin agricultural extension agent. She received a master's degree from North Carolina State University and a bachelor's from University of Wisconsin-Madison.