The information below has been supplied by dairy marketers and other industry organizations. It has not been edited, verified or endorsed by Hoard's Dairyman.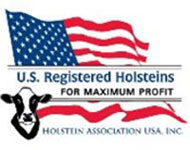 Holstein Association USA's Research Grant Program provides funding to universities and non-profits in the United States performing research studies that benefit the profitability of Holstein cows. Principal investigators with eligible projects are invited to apply until the August 16, 2021 deadline.
The program has a special focus on improving the health and profitability of Holsteins through genetics. However, research proposals can address a variety of areas including nutrition, reproduction, dairy foods, and economics. Research proposals of all sizes will be considered, but grants are expected to be funded with in the range of $10,000 to $80,000 per year. Grant durations are expected to be one to three years.
"Life is ever changing and research is one way to evaluate potential change. U.S. Holstein dairy producers are among the best in the world and the research grant program seeks to complement their expertise by selecting research projects for funding that look to the future," says Dr. Roger Shanks, Holstein Association USA genetics consultant. "What new idea can make a difference? Can an old concept be improved? Holstein Association USA seeks to fund innovative research grant proposals."
Four research projects have been funded since the program began in 2017. These include a project from North Carolina State University focusing on using genomic information to manage inbreeding, a three-year project from the University of California, Davis which examines breeding Holstein cows for the slick hair gene to improve heat tolerance, and a two-year study on double ovulation and twinning in lactating Holstein cows from the University of Wisconsin-Madison. In 2020, a project from The Pennsylvania State University focusing on the genomic evaluation of diet digestibility was selected.
More information about the grant guidelines and process, current projects, and applications can be found at www.holsteinusa.com/programs_services/research_grant.html. With questions or for more information contact Dr. Roger Shanks at researchgrants@holstein.com.