When I was a teenager, I loved the Wisconsin State Fair. That trip to West Allis to show our animals was a summer vacation for my siblings and me. We didn't have heifers that were going to excel in class at the highly competitive youth dairy show, but that didn't really matter to us. We enjoyed the opportunity to spend time with other dairy exhibitors, working together in the barn and exploring the fairgrounds.

Once I graduated from 4-H and my junior show days ended, I volunteered as a chaperone for our county's State Fair participants. Then I interned for the Wisconsin Dairy Promotion Board, serving as the coordinator of what was then called the House of Moo, an educational area in the dairy barn that aimed to teach fairgoers about agriculture during the event's 11-day run. After I entered the working world, I served as an assistant superintendent of the junior dairy show for a number of years.
This year I headed back to State Fair for just one day, in a different capacity. I volunteered for a shift in the Dairy Lane, the highly interactive exhibit located in the dairy barn. What began as the House of Moo about two decades ago was revamped and rebranded in 2019, and now Dairy Lane showcases modern farms, dairy cattle, goats, cheese production, and more to the hundreds of thousands of people who visit the Wisconsin State Fair each year.

Dairy Lane is made possible by the Wisconsin State Fair Dairy Promotion Board, Dairy Farmers of Wisconsin, the Wisconsin State Fair Foundation, and numerous other generous donors, plus the volunteers who man the exhibit throughout the fair. During my shift, I was mainly stationed by the goats. (Did you know that Wisconsin is the top dairy goat state in the country?) I answered questions about the animals and milk, and I simply encouraged people to come and pet the goats if they wanted to get an up-close experience with farm animals.
For additional dairy exposure, the Wisconsin State Fair Dairy Promotion Board also manages milking demonstrations, a grilled cheese stand, and a milk shake shop during the fair. Other state fairs host similar educational displays and events. From informative booths to animal birthing centers to butter sculpture carvings, these activities provide learning opportunities to general fairgoers who very likely know very little about farming and where their food comes from.
Even though most people come to the fair for the food, the rides, or the musical entertainment, plenty of them take the time to swing through the barns to check out the animals. For some, it may be the only time they see farm animals all year. That means for us, it is a perfect time to showcase our agricultural industry. Even if the interaction is brief, a positive experience visiting with someone who has ties to agriculture can help shape a person's opinions about farming and dairy products, and that benefits us all.

---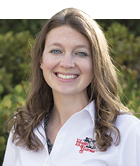 Abby Bauer
The author is the senior associate editor and covers animal health, dairy housing and equipment, and nutrient management. She grew up on a dairy farm near Plymouth, Wis., and previously served as a University of Wisconsin agricultural extension agent. She received a master's degree from North Carolina State University and a bachelor's from the University of Wisconsin-Madison.