The information below has been supplied by dairy marketers and other industry organizations. It has not been edited, verified or endorsed by Hoard's Dairyman.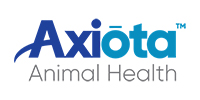 Animal Health & Nutrition Company, a Paine Schwartz Partners portfolio company and the commercial leader in animal health and nutrition product development and commercialization of nutritional health products, today announced that it has rebranded as Axiota Animal Health ("Axiota" or the "Company").
Formed in 2019 as an animal health and nutrition platform by Paine Schwartz Partners, Axiota serves the cattle industry through its operating companies, MULTIMIN® USA and MS Biotec®. Axiota represents key features of the products the Company sells and markets globally. The Greek root "Axi" represents proof, and "ota" represents the biological sciences. These concepts are foundational elements of MULTIMIN® 90 and Lactipro® — the products sold by Axiota. MULTIMIN® 90 and Lactipro® have been extensively researched and are leading products in the animal health and nutrition segment.

<!-no ad-->
"At Axiota, we provide the industry with scientifically proven products with clear modes of action that are backed by peer-reviewed research and real-world results," said William (Bill) Weldon, Axiota CEO. "Our products support cattle during challenging production phases and provide cattle producers consumer-friendly, non-antibiotic products that contribute to market sustainability and have significant growth potential in the U.S. and internationally. Axiota Animal Health represents two significant innovation platforms in injectable trace mineral solutions and rumen native anaerobic bacteria creating exciting opportunities for new products in cattle as well as expansion into other animal species."

Axiota Animal Health Dairy Team
The Company also announced the creation of the Axiota Animal Health Dairy Team. Led by Jimmy Owens, previously with Elanco Animal Health and Native Microbials, the team will more effectively service and support the Company's growing group of dairy customers.
"We are excited about the formation of a dedicated dairy team at Axiota, which enables us to expand on the past activities of both companies and provide a coordinated and focused approach to deliver both products to our dairy customers," said Jimmy Owens, who leads the U.S. Dairy and International Business at Axiota. "Axiota is the combination of two established business and technology platforms to offer proven, innovative and science-based solutions that help cattle thrive during critical stages of dairy production. With a fully dedicated Dairy Team, we will be able to further deliver for our customers and meet their growing needs."

About Axiota Animal Health
Axiota discovers, develops, and markets products for beef and dairy producers consistent with market and global consumer demands. The Company delivers best-in-class animal health products with proven modes of action that help manage risk and support cattle health, performance, and well-being across all stages of beef and dairy production. Its non-antibiotic solutions prepare cattle for times of transition and stress and support producers' goals of optimal health, performance, and animal well-being. For more information, please visit www.axiota.com.
The Axiota portfolio includes MULTIMIN® 90 and Lactipro®. MULTIMIN® 90 is a prescription-only injectable trace mineral that provides a supplemental source of zinc, selenium, copper and manganese.
Trace minerals are the building blocks of the immune and reproductive systems and MULTIMIN® 90 provides sure trace mineral supply by timed injection. Lactipro® supplies an immediate, viable population of Mega e® – a prolific, rumen-native microbe that preferentially consumes lactic acid and produces butyrate. MULTIMIN® 90 and Lactipro® both prepare animals to thrive during transition and stress.
MULTIMIN® and MS Biotec® will continue to serve the beef cattle industry through each respective company's sales and technical teams.

About Paine Schwartz Partners
A global leader in sustainable food chain investing, Paine Schwartz Partners is a private equity firm focused exclusively on investment opportunities in the fast-growing, dynamic global food and agribusiness sectors. The firm's investment, operations and finance professionals invest throughout cycles across the food and agribusiness value chain and bring a collaborative and active management approach to portfolio companies. For further information, please see www.paineschwartz.com.
About MULTIMIN USA
MULTIMIN® USA is based in Colorado and develops, markets, and sells a patented injectable trace mineral product for veterinary use in cattle.
About MS Biotec
MS Biotec® is the leader in commercial anaerobic fermentation and stabilization and is pioneering the use of the rumen native bacteria Mega e® to manage diet transitions while maintaining animal health.