Like many farm families, when I was growing up, dairy was intertwined in our Christmas celebrations. That's mostly because, holiday or not, there was work to be done. The cows had to be milked and fed before we opened our presents from Santa on Christmas morning, and after family gatherings at my grandparents' house, we had to hurry home for evening chores.
Of course, dairy was included for other reasons, too. The holiday treats we baked often included dairy ingredients, and Santa always received a tall glass of cold, fresh milk. For my siblings and I, one of our favorite holiday cartoons was called "Anabelle's Wish," a story about a calf that received the ability to speak as a gift from Santa. It's not much of a surprise farm kids would like a Christmas story about animals!

As an adult, I still keep dairy as part of my holiday celebrations. Blocks of cheese make great gifts for some people on my shopping list, a cheese tray is always an option when I need to bring a dish to pass, and I make sure my kids set out a refreshing drink of milk for Santa on Christmas Eve. I've also been part of dairy groups that hand out string cheese in holiday parades or offer dairy samples to grocery store shoppers around Christmas.
This year, the American Dairy Association North East is doing a fun promotion to encourage families to enjoy milk during the holiday season. People are asked to share a photo or video of themselves, their family, or their friends drinking milk or using it as a baking ingredient on Instagram or Twitter, utilizing the hashtag #MakeMilkMoments.
"We developed 'Make Milk Moments' to reach consumers through all of our dairy checkoff programs and partnerships including social and news media, retail outlets, schools and our county dairy promotion teams," said ADA North East CEO Rick Naczi in a press release. "The holidays are a special time for all families, and we hope drawing on those nostalgic moments just might encourage consumers to purchase even more dairy."
One random winner in the contest will be selected to win $1,000 and a milk and cookie gift basket. More details can be found at makemilkmoments.com.
This sweepstakes is open to residents of New York, New Jersey, Pennsylvania, Delaware, Maryland, Washington D.C., and northern Virginia. If you don't live in this region, don't let that stop you from sharing the fun ways you incorporate milk and other dairy products into your holiday celebrations. Perhaps you can find a similar promotion in your local area or start your own on social media.

No matter how you celebrate this Christmas season, may you stay in good health and may your milk cup remain full!
---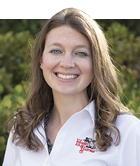 Abby Bauer
The author is the senior associate editor and covers animal health, dairy housing and equipment, and nutrient management. She grew up on a dairy farm near Plymouth, Wis., and previously served as a University of Wisconsin agricultural extension agent. She received a master's degree from North Carolina State University and a bachelor's from the University of Wisconsin-Madison.