Even though my home team (the Green Bay Packers) fell short of competing in the Super Bowl this year, I still plan to watch the game on Sunday night. I certainly won't be alone, as the NFL's championship game is expected to attract 117 million viewers.
The two teams that are playing in the Super Bowl – the Cincinnati Bengals and the Los Angeles Rams – have just four Super Bowl appearances and one win between them. I think that adds to the likability of both franchises and creates a greater desire for general football fans to root for them. Plus, there are plenty of feel-good stories swirling around this week about the teams and some of the players, making it possible to get sucked into the Super Bowl hype even if your team isn't playing.

One story from Fox News 19 out of Cincinnati with a connection to dairy caught my eye. United Dairy Farmers Inc., a dairy processor that sells its products at more than 200 convenience stores across Ohio, Kentucky, and Indiana, has made a temporary name change in honor of the big game. As a nod to the Bengals "Who dey?" chant, the company is now going by the name "U Dey F."
Support for the local team doesn't stop there. The dairy has a "Joe Football" variety of ice cream in honor of quarterback Joe Burrow and a "U Dey F Orange Sherbet Freeze" that represents one of the team's colors. The donuts they sell also have a Cincinnati spin to them, including orange and black sprinkles.
In addition, if the Bengals win the game on Sunday night, a fuel promotion for "U Dey F" members will go into effect the next day. Gas prices will be cut by 1 cent per gallon for every point the team wins by. There is no shortage of Bengals pride by this organization, and it's awesome that their team spirit incorporates dairy products!

Super Bowl Sunday has always been a big day for dairy consumption. Dairy Farmers of Wisconsin expects that Americans will purchase 25 million pounds of cheese to be eaten during this year's game. In wheel form, that much cheese would fill a football stadium 25 times.
Pizza, an avenue for cheese intake, is also a big star on game day. An estimated 12.5 million pizzas are consumed during the Super Bowl. Hopefully many of those people are ordering extra cheese!
It is neat to see dairy's many ties the Super Bowl. Unfortunately, the timing of the game makes it difficult for some farmers to actually watch it. If you are listening to the game on the radio while milking cows instead of sitting in front of the television, thank you for your hard work and dedication. Your efforts make it possible for so many to enjoy dairy as part of their Super Bowl celebrations.

---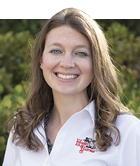 Abby Bauer
The author is the senior associate editor and covers animal health, dairy housing and equipment, and nutrient management. She grew up on a dairy farm near Plymouth, Wis., and previously served as a University of Wisconsin agricultural extension agent. She received a master's degree from North Carolina State University and a bachelor's from the University of Wisconsin-Madison.