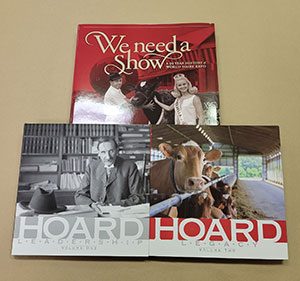 They make great gifts as single books or as a trio! Includes: Hoard's Legacy, Hoard's Leadership, and We Need a Show.
This two-volume series of Hoard's Legacy and Hoard's Leadership, record W.D. Hoard's most famous quotes, the evolution of the dairy industry, and photographic gems from a generation of dairy related work.
We Need a Show is grouped with this collection. This hardcover, 202-page book celebrates World Dairy Expo's 50th anniversary in 2016. Over 40 journalists collaborated to create a historical piece reminiscing on 50 years of Expo memories. The commemorative book, We Need a Show, gives insight into how the show began and explores the struggles and successes over the years.