There's an old saying that goes "Don't miss the forest for the trees." I have heard that saying more than one time when I've gotten fixated on the details at the expense of the bigger picture. While this saying has merit and can be well-applied on many dairies, the opposite can be true as well. Don't miss the individual trees for the sake of the entire forest. Like so many things, it's a give and take.
I was reflecting about this dichotomy the other day when I heard of the passing of
Dr. George Heersche, Jr.
I only knew him as an acquaintance and by the wide swath of influence he left in the industry and particularly with Kentucky 4-H members.
During the last conversation I had with George, we discussed the importance of the details in life and on the farm. He told me a story of a single cow that he once helped a farmer get pregnant. By no means was it the most influential moment of his extension career. It didn't touch millions of people. That cow didn't produce a million dollar sire or World Dairy Expo winner. Yes, she was a nice cow, according to George, but more so she was important to the herd she was part of. It meant a lot to them to get her pregnant, and George helped solve her infertility.

What a minor story, and yet, I can tell you more than one similar story that farmers have shared with me over the years. I don't think George's point was that a single cow is more important than an entire herd, but rather, that each herd is made up of individual animals that must each thrive in order for the whole farm to thrive.
That's a lesson we can each apply daily on the farm. Think of it in terms of herd health. A cow with a type of contagious mastitis can make her herd mates sick. Likewise, one sick cow can point to a ration issue that might be affecting the whole herd. These are the type of details that can get lost in the forest. They're also the details, when improved, that can help bolster the bottom line.

George lived this model beyond his professional life. He and his wife provided a home for thirteen foster children. He couldn't touch every young person, but to those he did touch, whether as a coach, father-figure, or friend, he made a difference.
Take a moment today to consider how you can apply that lesson in your lives and on your farms. Thanks George; may we carry on your legacy.

---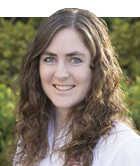 Maggie Gilles
The author is a dairy farmer in Kansas and a former associate editor at Hoard's Dairyman. Raised on a 150-cow dairy near Valley Center, Kansas, Maggie graduated from Kansas State University with degrees in agricultural communications and animal sciences.