It wasn't until I moved to Wisconsin following college that I truly understood what it meant to try to farm in a place where winter seems to last from November to May. In Kansas, we always feel busy during the fall harvest season, and it's not easy to get crops harvested, manure spread, and winter forages planted. In Wisconsin, and many other dairy states, these jobs are squeezed into such a short window, making it a monumental task.
With that in mind, the organization of manure application responsibilities is paramount, and, understandably, everything doesn't always go to plan. However, when weather permits the following advice, both the land and animals can benefit.
Ohio State's Glen Arnold reminded readers of the Buckeye Dairy News that cover crops are a nitrogen-saving tool if they can be planted following manure application.
"To best capture the fall-applied manure nutrients, manure should be incorporated during application or as soon as possible afterward," Arnold wrote. "Livestock producers should also consider using cover crops to capture more of the manure nutrients, especially the nitrogen, and also to prevent soil erosion."
Cover crops planted following manure application can capture nitrogen early in spring when fields aren't yet traversable.
"The most common cover crops used with livestock manure are cereal rye, wheat, and oats," Arnold explained. "Be certain your cover crop mixture meets the necessary application rate(s) and also meets the requirement to live through the winter months.
"
Rye and wheat both recycle nitrogen and germinate at low soil temperatures. Both can become a forage crop the following spring.
"Because rye over-winters, research has shown it can capture and hold 25 to 50 pounds per acre of nitrogen in the organic form as roots and plant tissue," Arnold detailed. "The goal should be to combine nutrient recovery and to protect water quality."
---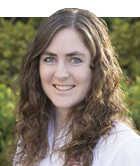 Maggie Gilles
The author is a dairy farmer in Kansas and a former associate editor at Hoard's Dairyman. Raised on a 150-cow dairy near Valley Center, Kansas, Maggie graduated from Kansas State University with degrees in agricultural communications and animal sciences.