Hesston by Massey Ferguson Returns to Wrangler National Finals Rodeo with Newly Announced PRCA Sponsorship
Program includes Wrangler NFR tickets; chance to win a trip for four to the WNFR, plus free quality-hay accessories with baler purchase
Hesston® by Massey Ferguson® is going back to its roots by sponsoring the Wrangler National Finals Rodeo (WNFR) in 2011 and plans to continue this sponsorship in the years to come. Hesston was a long-time supporter of the Professional Rodeo Cowboys Association (PRCA) and the Wrangler NFR, beginning in 1974. Now Hesston by Massey Ferguson is carrying on the tradition by becoming the official farm equipment company of the PRCA with high visibility during the PRCA-sanctioned WNFR.            
"We are proud to again be an official sponsor of this exciting event," says Todd Stucke, director of hay and harvesting for Hesston by Massey Ferguson. "Just as rodeo and hay production have a shared heritage in the West, Hesston's sponsorship of the WNFR is an important part of our heritage that we wish to continue."            
The WNFR, held in Las Vegas from Dec. 1–10, is sanctioned by the PRCA, the largest and oldest rodeo-sanctioning body in the world and the recognized leader in professional rodeo.
Win a trip to the WNFR
Hesston by Massey Ferguson is celebrating its newly reinstated sponsorship of Pro Rodeo by offering hay producers a chance to win an expenses-paid trip for four to attend the WNFR. Winners will thrill to the action from coveted Gold Buckle seats (retail value $250 each) during the exciting final night.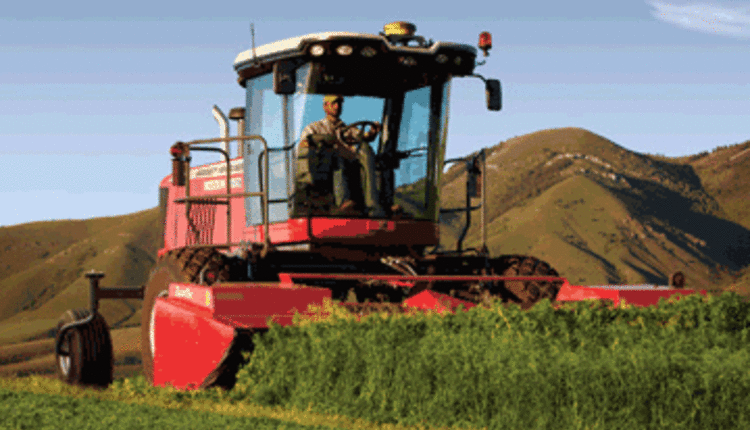 Purchase Hesston by Massey Ferguson hay equipment like this WR Series windrower before Oct. 31, 2011,
for a chance to win a trip to the Wrangler National Finals Rodeo.


        
Those who purchase Hesston by Massey Ferguson hay equipment before Oct. 31, 2011, will be entered into a drawing, with the lucky winner to be drawn on Nov. 5. Official rules can be found at www.masseyferguson.com/rodeo. Tickets to other performances also will be available for the 20 top-performing dealers and their customers.
           
To qualify for the drawing, buyers can choose from the full line of hay equipment available under the Hesston by Massey Ferguson brand, including the new WR9700 Series self-propelled windrowers. The WR Series includes many industry firsts, such as the easy-to-use C1000 monitor that controls nearly every aspect of the windrower, providing exceptional operating precision and efficiency.

Free accessories ensure there's no better time to buy a baler
           
In addition to the chance to win a trip to the Wrangler NFR, two great Early Bird offers of free hay-making accessories ensure that this fall is the best time ever to buy a baler right for your operation.

• Free HayBoss™ preservative system and bale scale – With the purchase of any Hesston by Massey Ferguson 2100 Series large square baler, receive a HayBoss preservative system and bale scale free. The HayBoss system and scales offer everything needed to control the moisture, weight and feed value of quality Hesston™ Hay. 
• Free mesh-wrap system – Purchase any 2800 or 1700 Series large round baler from Hesston by Massey Ferguson and receive the mesh-wrap system free. This $5,000 value lets you wrap bales 75 percent faster than with twine and helps preserve hay quality during storage.

The Early Bird offers apply to purchases made from now through Dec. 31, 2011.*
From mowers, conditioners and rakes to the industry's popular MF2170 Series large square balers, Hesston by Massey Ferguson offers industry-leading American-made solutions for the operator harvesting hay for his own livestock as well as solutions for the largest commercial hay producer. Kick the tires now at your Hesston by Massey Ferguson dealer to earn a chance to kick up your heels at the Wrangler National Finals Rodeo this December, plus receive some valuable accessories that help enhance the quality of the hay being harvested. For more information about the new Hesston by Massey Ferguson WR9700 Series Self-Propelled Windrowers and other high-technology hay equipment, visit your local Massey Ferguson dealer or go online at www.masseyferguson.us/products/combines-hay-equipment.

*Sales tax, freight, dealer set up, installation and administration costs are excluded from this offer. Offer good on select models. Offers on accessories cannot be combined with any other offer or program. Contact your participating dealer for more details. Offer good until Dec. 31, 2011. Rodeo entries must be received by Oct. 31, 2011. Programs are subject to change without notice.

HayBoss™ and Hesston™ Hay are trademarks of AGCO. Massey Ferguson® and Hesston® are worldwide brands of AGCO.
ABOUT AGCO
AGCO, Your Agriculture Company (NYSE:AGCO), a Fortune 500 company, was founded in 1990 and offers a full product line of tractors, combines, hay tools, sprayers, forage equipment, tillage implements and related replacement parts. AGCO agricultural products are sold under the core brands of Challenger®, Fendt®, Massey Ferguson®; and Valtra® and are distributed globally through 2,600 independent dealers and distributors, in more than 140 countries worldwide. Retail financing is available through AGCO Finance for qualified purchasers. AGCO is headquartered in Duluth, Georgia, USA. In 2010, AGCO had net sales of $6.9 billion. http://www.AGCOcorp.com

ABOUT PRCA
The PRCA, headquartered in Colorado Springs, Colo., is the largest and oldest professional rodeo-sanctioning body in the world. The recognized leader in ProRodeo, the PRCA is committed to maintaining the highest standards. The PRCA, a membership-based organization, sanctions approximately 600 rodeos annually, and there are nearly 30 million fans in the U.S. The PRCA showcases the world's best cowboys in premier events through the Wrangler Million Dollar Tour presented by Justin Boots, and its subsequent Justin Boots Playoffs and Justin Boots Championships; the Seminole Hard Rock Xtreme Bulls Tour presented by B&W Trailer Hitches; the PRCA's bull riding series; and the world-renowned Wrangler National Finals Rodeo. Action from PRCA-sanctioned rodeos and its premier events appears on Great American Country (DISH Network 167, DirecTV 326) and Pursuit (DISH Network 240, DirecTV 608). Each year, PRCA-sanctioned rodeos raise more than $26 million for local and national charities. www.prorodeo.com.
Safe Harbor Statement
Statements which are not historical facts, including expectations regarding the development and sales of the products produced are forward-looking and subject to risks that could cause actual results to differ materially from those suggested by the statements. These risks include possible declines in demand for products as a result of weather, demand and other conditions that impact farm income, actions by producers of competitive products, and the general risks attendant to acquisitions. Further information concerning these and other factors is included in AGCO's filings with the Securities and Exchange Commission, including its Form 10-K for the year ended December 31, 2010. AGCO disclaims any obligation to update any forward-looking statements except as required by law.

10.14.2011