The Marathon County Holstein Breeders, in coordination with the Wisconsin Holstein Association, hosted the annual Adult Holstein Convention at the Stoney Creek Inn in Rothschild, Wis., February 22-23, 2013. Over 200 Holstein breeders from across the state were in attendance for meetings and to receive recognition for outstanding accomplishments in 2012.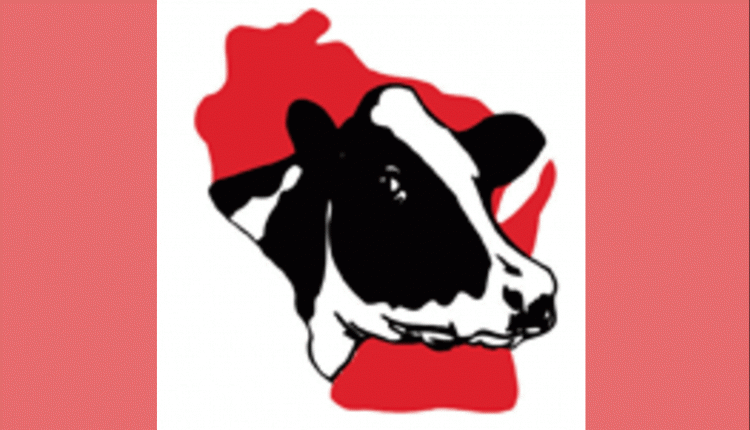 Following the Holstein Association USA Region 5 meeting on Friday afternoon, breeders attended committee meetings to discuss new and old business for the upcoming year. At the dinner that evening, the 2012 Wisconsin Top Performer cows were announced. Recognized were Synergy Dairy LLC of Pulaski, Siemers Holsteins of Newton, Jeff Brantmeier of Sherwood, Tom Kestell of Waldo and Steve & Amanda Killian of Blair. Receiving the overall Top Performer was Tom Kestell of Waldo with Ralma Goldwyn Mayfly-ET EX-92, with a record of 5-04 305d 49,801 4.7 2364 3.3 1594. Also recognized were owners of cows that have produced 300,000 and 400,000 pounds of lifetime milk.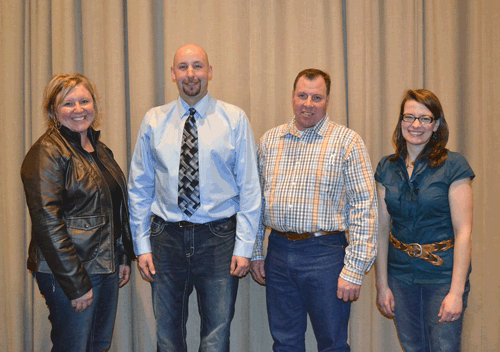 Young Adult Committee Scholarships: Marci Walker representing YAC, Doug Wallerman,
Bob & Shelly Hart. The proceeds from the Futures Sale helps support annual Education Scholarships
for young adults to attend workshops, industry events or annual meetings.
Friday evening's festivities concluded with the announcement of the Young Adult Educational Scholarship award winners and the fourth annual Wisconsin Convention Futures Sale, sponsored by Wisconsin Holstein's Young Adult Committee (YAC). Winners of this year's Educational Awards were Doug Wallerman of Norwalk and Robert and Michelle Hart of Galesville.
The Futures sale averaged $5,712.50 on 32 lots that included choices from some of the state's most prominent cow families. High seller at $26,500 was Lot #2, consigned by Summit Farms of Plymouth, Wis, and purchased by Siemers Holsteins of Newton, Wis. This choice from Webb-Vue Gabor Mycala-ET VG-87 includes a pick from three March 2012 Plan daughters at +2364G, +2353G, or +2289G. Second high seller was Lot #3 from Royal Vista Holsteins of Pickett, Wis., at $12,500. This lot was purchased by Oakfield Corners Dairy of Oakfield, NY, which was Royal-Vista Epic Esther-ET, one of the highest GTPI heifers in the breed with 8 EX dams. Rounding out the top three was Lot #8 at $12,000. This first choice of two Alchemy daughters from Winterlance Stol Joc Mia-ET VG-86, was consigned by Sandy-Valley Holsteins of Scandinavia, Wis., and purchased by Matt Johnson of Baldwin, Wis.
Saturday morning kicked off with Keynote Speaker Dr. Gordon Atkins, Senior Clinical Skills Instructor of Veterinary Medicine at the University of Calgary, Alberta, Canada, on "The Role of Conformation Evaluation in an Industry Dominated by Genomics." Following Dr. Atkins, the annual WHA business meeting was held, and included committee reports, a report on the financial status of the Association and an update from the Wisconsin Holstein Association. Four incumbent board members were re-elected to the WHA Board of Directors: Todd Borgwardt of Valders, Paula Bovre of Fond du Lac, Chris McCullough of Juda, and Marci Walker of Wisconsin Dells.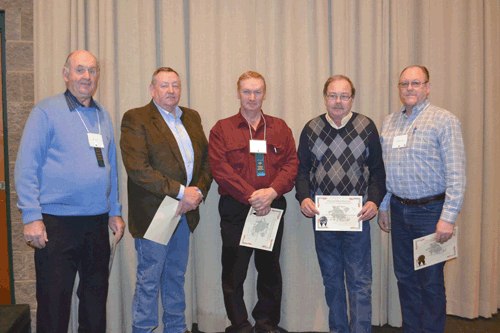 40 & 50 Year members recognized at convention:
Alan Hanke, Rick Bovre, Eugene Lammers, Tom Morris & Don Schmidt
Following the annual meeting, 40-year and 50-year members and Wall of Fame inductees were honored at an awards luncheon. This year's Wall of Fame inductees were: person Alvin R. Piper, Lake Mills, the cow Nectarlin Billie Bob Mark, and the bull Fustead Emory Blitz-ET. The Outstanding Holstein Boy Mitch Kappelman, Outstanding Holstein Girl Cara Biely and National DJM representative Charlie Hamilton were also honored. Former Junior Activities Committee Chair Cara Biely presented Corey Geiger with the 2012 Friend of the JAC's award for his countless hours and support over the years to the WHA Junior programs. The afternoon was highlighted by farm tours to Nor-Way-Pete/Four-of-a-Kind and Matthiae Dairy.
Wall of Fame Inductees: Charlie Will presenting on behalf of Select Sires,
Brian & Wendy Fust, Mary Piper-Finley and Marlowe Nelson.
Inductees were Fustead Emory Blitz, Nectarlin Billie Bob Mark and Al Piper.
Honored at the Saturday evening banquet was this year's Younger Distinguished Dairy Person, Distinguished Service, and Distinguished Breeder award winners. This year's Younger Dairy Person was awarded to Chad and Amy Ryan of Fond du Lac, Wis. Honored with Distinguished Service recognition was Barb Kayser of Milton, Wis. Receiving the prestigious Distinguished Breeder honor was Brian and Wendy Fust of Wausau, Wis. In addition to the banquet, a live auction was held to benefit the Wisconsin Holstein Junior events and programs, the Brian Fust Memorial Scholarship Fund and the general WHA scholarship program. Over $16,000 was raised that night thanks to generous sponsors and donors from Marathon County and around the state.
Throughout the annual convention, the Young Adult Committee recognized (5) first-time attendees with a $100 cash prize. Winners of these awards were Rick and Kathy Seefeldt of Eland, Troy and Jaime Noble of Lancaster, Charles and Barbara Wellner of Abbotsford, Melissa King of Waukesha and Jason Matthiae of Marathon.
The WHA Board of Directors met at the conclusion of the convention to elect officers for the upcoming year. Newly elected officers are President Marci Walker of Wisconsin Dells, Vice President Chris McCullough of Juda and Secretary Paula Bovre of Fond du Lac, with Kevin Jorgensen of Waupun and Todd Borgwardt of Valders also serving as Executive Committee members.
The Wisconsin Holstein Association holds its annual convention each year in February. For more information on this or other events, check out the website at www.wisholsteins.com, or call 1-800-223-4269.
02.26.2013