The future of dairy cattle breeding will be among the key topics as eight breeders from coast to coast voice their perspectives at the workshop
Advancing Dairy Cattle Genetics: Genomics and Beyond
in Tempe, Ariz., from February 17 to 19. As the early-bird registration comes to a close
today
, the high-caliber dairy farmers who will present thoughts at this conference might be reason enough to attend.
In the meantime, here is more insight on the two breeder panels that will hone in on the future of cattle breeding:
Traits of the Future:
Dana Allen Tully, Gar-Lin Dairy Farms, Eyota, Minn.
- Dana manages an 1,855-cow dairy of which two-thirds of the cows are Holsteins and one-third are crossbred. A Ph.D. nutritionist by training, Dana places a strong focus on health traits such as somatic cell score, daughter pregnancy rate and productive life when making mating decisions. She also is a member of the Innovation Center for U.S. Dairy's Cow of the Future Committee.
Alan Andersen, Seagull-Bay, American Falls, Idaho
- In recent year's, the Andersen's 600-cow Holstein herd has routinely placed bulls in the top 100 of the DNA or genomic-tested list. The most recognizable bull in that group is Seagull-Bay Supersire. Alan and his son, Greg, focus on high production and fitness traits. The family also has another 1,500-cow dairy in Declo, Idaho, managed by Alan's son, Ben. This herd has utilized a 3-way crossbreeding system since 2005.
Alan Chittenden, Dutch Hollow Farm, Schodack Landing, N.Y.
- These Jersey breeders have been leaders in developing polled genetics that also rank high among all animals in the breed. Today, the herd consists of 600 Jersey cows. Their incredible track record of breeding top-notch cattle earned them the prestigious Master Breeder award from the American Jersey Cattle Association in 2012.
Jonathan Lamb, Oakfield Corners Dairy, Oakfield, N.Y.
- Lamb regularly uses embryo transplant and in-vitro fertilization on his 6,000-cow dairy to improve the genetics of his herds. Respected among his peers, Lamb serves as chairman of the genetic advancement committee for Holstein Association USA. Lamb was also named the Holstein USA Association's Distinguished Young Breeder in 2012.
On-farm Genomic Applications:
John Andersen, Double A Dairy, Jerome, Idaho
- Perhaps one of the largest users of genomic tests on a commercial scale, Andersen and his team routinely run genomic tests to sort out high-end and low-end genetic animals at their 13,000-cow dairy. Additionally, John stays involved in high-end genetics through breeding cattle under the Triple Crown Genetics prefix.
Brett Barlass, Yosemite Jersey Dairy, Hilmar, Calif.
- Barlass serves as manager of the Yosemite Jersey herd and serves on the Jerseyland Sires board which is affiliated with Alta Genetics. An early adapter of genomic testing, the Yosemite Jersey herd ranks among the nation's elite and has run nearly 2,000 genomic tests to date.
Tom Schmitt, Morningview Holsteins, Durango, Iowa
- Schmidt, a long-time breeder of high-caliber genetics, now uses genomics as one more tool in his arsenal to make decisions, still preferring to incorporate time-tested tools, as well. In working with genomics, Schmidt places emphasis on somatic cell score and type evaluations in his registered Holstein herd which maintains a 25,000-pound herd average.
Dan Siemers, Siemers Holsteins, Newton, Wis.
- Dan and his extended family operate a Holstein herd that milks nearly 2,400 cows and achieves an incredible 34,000-pound herd average. That includes a daily tank average of 140 pounds per day in the high group and 109 pounds across the entire farm. The farm uses genomics to test above-average herd members to grow the herd's genetic potential and market both female and male breeding stock.
For more workshop details, go to www.ans.iastate.edu/events/dairygenomics/ to complete your registration which is only $150 through January 15. After that date registration costs go up.
---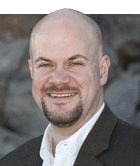 The author is the managing editor, and he brings 18 years of industry leadership to our readers overseeing all editorial content and production of the magazine. His degree from the University of Wisconsin-Madison combined dairy science and agricultural economics