Based on 2014 data, 29 percent of American food consumers think food companies are trustworthy. With 44 percent neutral on the subject, that leaves 25 percent who feel food companies are
untrustworthy.
That's what the white paper "Emerging faith in food production" found after surveying over 2,000 U.S. consumers. It was conducted by Sullivan Higdon & Sink (SHS) FoodThink, a marketing agency with offices in the Midwest and Washington, D.C.
Unfortunately, the survey found only half of consumers are open-minded. According to the report, when a negative food news story appears, they are willing to listen to food producers give their side. The sad part . . . 46 percent would not.
So who is trustworthy? Farmers and ranchers have a solid 51 percent of overall trustworthiness with consumers. However, the largest trusted source is friends and family, with 57 percent of consumers choosing them.
But, according to this study, the friends and family category had the largest percentage drop. Because our family and friends read things on the internet, does that make them experts? Hardly . . . and just because it is on a website does not mean it is accurate either. Keep in mind, we are friends with consumers and we can be one of their trusted sources. Other groups also experiencing a decline include the medical community, USDA, FDA and the academic community. I wonder how a study done 50 years ago would value those sources, maybe a complete reversal?
On the alternate side, consumers are gaining trust (at very aggressive rates) in grocers/food retailers, food companies/manufacturers, mass media/news organizations, bloggers/social media, animal pharmaceutical companies and (ironically) politicians.
Sources of Information
It is a bit better for farmers and ranchers. Fifty-three percent of consumers view them as trustworthy sources of food production
information.
So who are the other 46 percent considering for food production information? The ironic part is that 77 percent of consumers admit to not having a good knowledge about farming or ranching. That is a lot of consumers who
admit
to not being experts. I expect that number is conservative when you think of some of your interactions with consumers.
Who claims the highest level of food production knowledge? Results for those claiming "excellent" or "good knowledge" were organic shoppers, good cooks, parents, men, those under 45 years of age, and those with high incomes. Twenty-four percent of consumers had a solid understanding of food production. The groups who fell below the average for food production knowledge were moms, low-income respondents, women, those over 45, and bad cooks.
So while we are not loosing ground with consumers, we have a huge opportunity to share our information and personal stories with them to grow agriculture's trust.
---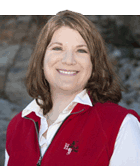 The author is the online media manager and is responsible for the website, webinars and social media. A graduate of Modesto Junior College and Fresno State, she was raised on a California dairy and frequently blogs on youth programs and consumer issues.