by Amanda Smith, Hoard's Dairyman Associate Editor
Across the industry, there is one struggle upon which we can unite. Regardless of your chosen production method or location in the country, margins have been tight as of late. Yet, when compared, California's organic operations fared a bit better than their conventional Holstein counterparts this past year.
Annually, the California Department of Food and Agriculture (CDFA) releases California Cost of Production data. In 2013, data was collected from 10 organic dairy herds, averaging 445 head. The CDFA also collected information from 29 conventional Holstein herds, averaging 397 cows. Based on herd size, these two data sets provide a reasonable cost of production comparison.
The 12-month average price paid to California dairymen in 2013 was $18.49 per hundredweight (cwt.) compared to $16.59 per cwt. in 2012.
Within the smaller herd size breakdown, the 2013 organic mailbox milk price averaged $30.90 per hundredweight compared to $18.65 for the conventional Holstein dairies. The Holstein herds within this category averaged 70 pounds of milk per cow per day. Their organic counterparts averaged just shy of 49 pounds per cow per day.
Despite this discrepancy at the mailbox, organic dairymen faced a significantly larger feed bill. On a per cwt. basis, feed cost for organic dairyman averaged $19.32, an 8.1 percent jump from 2012's $17.87 per hundredweight. Meanwhile, on a per hundredweight basis, the conventional herds spent almost $8 less on feed, averaging $11.52.
When looking at the compiled data, the key driver behind the feed cost disparity was the grain, mineral and supplement category. The 10 organic herds spent almost twice as much in this category compared to the conventional Holstein dairies of a similar herd size. Organic dairymen shelled out $610 per ton for grain; conventional dairymen paid $339 per ton. The premium for alfalfa hay on a per ton basis factored in, too. Costs averaged $260 and $308 per ton for conventional and organic producers, respectively.
Total costs per hundredweight last year averaged $27.66 and $17.81 for organic and conventional dairies, respectively.
When CDFA calculated average income over feed costs on a per hundredweight basis, organic herds netted $11.57, while conventional herds brought in $7.13. Compared to 2012, this was a significant gain for the conventional dairyman but a 6.9 percent drop for the organic producer.
Higher conventional milk prices in 2014 could narrow this difference, but feed costs could throw another cog in the wheel.
---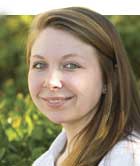 The author , Amanda Smith, was an associate editor and an animal science graduate of Cornell University. Smith covered feeding, milk quality and headed up the World Dairy Expo Supplement. She grew up on a Medina, N.Y., dairy, and interned at a 1,700-cow western New York dairy, a large New York calf and heifer farm, and studied in New Zealand for one semester.