by Amanda Smith, Hoard's Dairyman Associate Editor
It's that feeling of hope. The red-carrier Holstein (carrying one copy of the recessive red gene) was bred to a Red and White bull (carrying two copies of the red coat color gene). There was a 50-50 chance that the cow would give birth to the red calf that was desired. And, it's happened many times before.
But when when we pulled into the farm's driveway after running errands, we came to an abrupt halt, noticing a small addition in the dry cow pasture. It was black, not red, and that feeling of hope turned to disappointment.
As any dairyman would do, we shrugged it off, optimistic it could, at the least, be a heifer and headed to the pasture to check on the cow and her newborn calf. The cow, Ermine, was bred to Big Apple-Red and had calved easily and within a day of her due date.
However, the scene that unfolded on the farm over the holiday weekend was quite unexpected.
Walking to the pasture to collect the pair, we quickly noticed that the black calf wasn't the only one there. It had a red counterpart. After checking the other dry cows to ensure no one else had calved, it could only be assumed that Ermine had given birth to twins; one bearing black-and-white markings while the other was red and white. Both were no bigger than the size of a newborn Jersey.
While pondering the odds of having twins of two different coat colors, our curiosity quickly turned to the sex of the calves. Two heifers is a bonus, whereas two bulls or a mixed pair spend only a short time on the farm. Luck was on our side, and the former was the case; Ermine had given birth to twin heifers.
Two separate eggs were released when the cow ovulated and both were independently fertilized. One got the dominant black gene from the dam, while the red calf received the recessive red gene.
To top it off, the two fraternal twins were born on the 4th of July. Currently nicknamed Boom (black and white) and Freedom (red and white), their eventual registered names will follow tradition and begin with the letter E.
---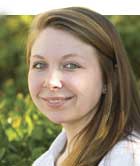 The author, Amanda Smith, was an associate editor and an animal science graduate of Cornell University. Smith covers feeding, milk quality and heads up the World Dairy Expo Supplement. She grew up on a Medina, N.Y., dairy, and interned at a 1,700-cow western New York dairy, a large New York calf and heifer farm, and studied in New Zealand for one semester.