We are in the heart of national FFA week, which started on Saturday, February 21 and concludes on February 28. The week is celebrated each year over George Washington's birthday. As a past FFA member, I have many great memories of my time in the blue and gold.
The National FFA Organization consists of 610,240 members. With 7,665 chapters from across the United States, Puerto Rico and the U.S. Virgin Islands, its membership continues to grow. And with the recent addition of private and parochial schools, the opportunity to join FFA is a reality for many students who were previously unable to join. In addition, some schools without FFA chapters have agreements with a nearby high school with FFA programs to allow students to participate in the agricultural educational classes and activities.
To remain modern, the
FFA emblem was updated
with a cleaner look this month. To the common eye, no distinct changes were made, only subtle artwork modifications.
To promote National FFA Week, past and present FFA members can share some of their FFA memories. They are using the hashtag, #FFAWeek. Each day this week, a different topic is being shared on social media.
The members' Student Agricultural Experience (SAE) program was depicted on Sunday. Monday was all about family, their FFA family, and is using the hashtag #FFAmily.
There are dozens of programs and contests for FFA members from speaking competitions to judging contests and marketing presentations. In high school, I participated in the Creed, Dairy Judging and Parliamentary Procedure contests. Yesterday was the day to post photos of your favorite FFA contest.
Many FFA chapters build pride with creative FFA t-shirts, so expect to see a lot of FFA shirts posted on social media today.
Trophies, ribbons and pins will be popping up tomorrow, as the theme is Greatest FFA Achievement. My greatest FFA achievement was earning my American FFA Degree. And the blue corduroy jacket will blanket the internet as it is official FFA dress day on Friday.
The promotion concludes with selfies with your FFA advisor or advisors on Saturday.
Whether you were in FFA or are a current member, the flood of blue and gold images this week will remind you of the tremendous opportunities available to youth and be a reminder of the memories created as an FFA member and the friendships built. The skills developed serve FFA members well today and will endure long into their future.
---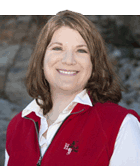 The author is the online media manager and is responsible for the website, webinars and social media. A graduate of Modesto Junior College and Fresno State, she was raised on a California dairy and frequently blogs on youth programs and consumer issues.