The International Junior Holstein Show was held on Tuesday, September 28 with Adam Liddle of Argyle, NY, serving as judge of the 212 entries. For many of the young Holstein exhibitors, this show is the pinnacle of their year. Their animals may have been shown all spring and summer, and will conclude this week. For others, this may be "the" only show at which they will exhibit in 2010.
The Grand Champion of the International Junior Holstein Show was Longsdon Durham Cher. This is the
second time
Cher has been named Grand Champion at this junior show. She is owned by two young ladies for Eminence, Kentucky, Katie Gibson and Michaela Sanders. Shane Noldolf was excited to be named Reserve Grand Champion. Both Champions came from the Aged Cow class.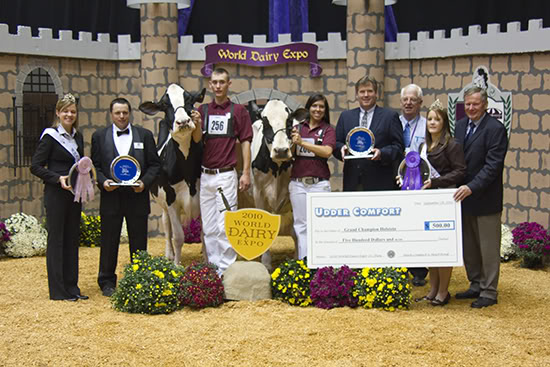 Cara Biely, Wisconsin Holstein Princess Attendant, Judge Adam Liddle,
Res Grand Champion held by Shane Noldolf, Grand Champion held by Katie Gibson, John Meyer makes the presentation on behalf of Holstein Association USA. Udder Comfort presents the check to the winner with Hillary Hartley, Wisconsin Holstein Princess.
More highlights from the show:
Jr Champion:
Ms Blondin Dundee Bree-ET – Chloe Vosters, Kaukauna, Wis
Res Jr Champion:
Ms Duckett Durham Beauty-ET – Cal Dewitt, Clinton, Wis
Jr Champion Bred & Owned:
Roll-n-View Alex Bristol – Cooper Galton, Nunda, NY
Intermediate Champion:
Gen-I-Beq Goldwyn Saby – Samantha Smithgall, Perry, NY
Res Int Champion:
Scenic-Edge Advent Cocoa – Mike Fuller, Rudolph, WI
Sr & Grand Champion:
Longsdon Durham Cher – Katie Gibson & Michaela Sanders, Eminence, KY
Res Sr & Res Grand Champion:
Stone-Front Advent Laverne – Shane Noldolf, Rudolph, Wis
Champion Bred & Owned:
Four-Hills Luci Ina 1551-ET – Britney Hill, Bristol, VT