We would consider ourselves lucky to be really good at one thing – something that truly symbolized the essence of our being. But to be skilled in many disciplines, is rare.
Longtime
Hoard's Dairyman
Art Director Jim Baird shared his talents with readers of the magazine, the dairy industry and the public. His body of work, including his etchings, painting and photos, is a beautiful legacy to such a talented gentleman.
Baird joined the staff in 1948 and saw many changes in the publication and dairy industry. During his tenure,
Hoard's Dairyman
went from black and white to color photos, letterpress to computers, and he personally saw the advancements in dairy farming in 37 states.
If the name Jim Baird does not strike a chord, that is how he would have wanted it. But, you probably saw his artwork and looked forward to the idyllic Christmas scratchboard creations that graced the cover of the December issue of
Hoard's Dairyman
for 43 consecutive years. Ah, yes. Now you know of Jim Baird, or at least his work.
Described as an extremely humble individual, he never sought the limelight, yet certainly deserved it. The scratchboards were all completed at his home because of the amount of time they consumed. He never admitted how long they took, just said, "Some go faster than others."
His painting skills were most visible in his "Foster Mothers of the Human Race" paintings. He completed four versions, each one depicting the changing look of the dairy breeds over time. I had the opportunity to video Jim speaking about the Foster's Mothers "field trip" to find the most ideal heads to serve as models for his collage of cows.

His photography blossomed from the beginning of his career, at age 19, to over 700 of his photos appearing on the magazines' covers and countless others within its pages. "I think I won't be able to get out of the habit of looking for cows," he said at the time of his retirement, "Cows have truly been a foster mother to me!"
With artistic skill in the body form of the dairy cow, Jim drew the linear scoring sketches for the National Association of Animal Breeders. Those images have been used worldwide in dairy cattle breeding.
The National Dairy Shrine Museum held a special place in his heart. During his time in Fort Atkinson, he was a curator to many of the artifacts, a historian, a designer, tour guide, illustrator and photographer. The NDS honored him with the 4E Award as well as an Industry Pioneer in 2012. Jim's fingerprints have been all over the design and content of the museum from its opening in 1981 through today's presentation.
While Jim may have formally retired from
Hoard's Dairyman
in 1993, his contributions continued long after that time. Thank you, Jim, for making our industry a better place.
---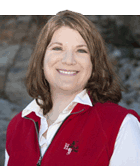 The author is the online media manager and is responsible for the website, webinars and social media. A graduate of Modesto Junior College and Fresno State, she was raised on a California dairy and frequently blogs on youth programs and consumer issues.