National FFA Week concludes tomorrow. This weeklong celebration of FFA happens every February, and in honor of the occasion, I recently reviewed a list of
America's most recognizable FFA alumni.
President Jimmy Carter is the only past FFA member to serve the highest office in the land, but there are other FFA alumni who have served our country as state agriculture commissioners, judges, Senators and Congressmen. The leadership skills developed through FFA are hard to deny. Even those who do not have prestigious positions, use skills learned in FFA in their everyday lives.
4-H taught me to talk to a group, but FFA taught me to speak. The speaking and communication skills I developed in high school through FFA are very valuable. Some of the most recognized communicators are WGN's Orion Samuelson,
Cowboy Poet
and entertainer Baxter Black, and Elizabeth Kinney Stidham,Miss Oklahoma 2004, who is a professional speaker and interview coach.
But, communication can also be in written form. Learning to write a well-prepared speech or applying for an award, the ability to put ideas on paper is a skill that FFA can develop. Two individuals that served as state FFA officers went on to national acclaim through their writing. Chris Johns is Chief Content Officer (CCO) of
National Geographic
and Nicholas Kristof won two Pulitzer Prizes as a writer for the
New York Times
. On a less serious side, Jared Hess wrote and directed the comedy film
Napoleon Dynamite
.
While not all FFA members who enjoy singing will turn into Tim McGraw, Taylor Swift or Trace Atkins, the organization called them members. Participating in FFA talent shows or attending the National FFA Convention as a National FFA choir or band member is certainly a tremendous opportunity to share your personality and love of music with others.
Operating a successful FFA Supervised Agricultural Experience Program can be the start of business skills. The past CEO of J.C. Penney and current executive vice president of corporate affairs for Walmart got their start in FFA.
The work ethic of managing your livestock project or agricultural work-experience raises the level of dedication to a worthwhile goal. Olympic gold medalists Stacy Dragila in pole vault and Rulon Gardner for Greco-Roman wrestling were both FFA members. College football's highest honor, the Heisman Trophy was won by two-star standout, Bo Jackson. A Dayton 500 winner, NRCA World Champion Bull Riders and the first blind man to hike the entire length of the Appalachian Trail by himself all count themselves as FFA alumni. Green Bay Packers Jordy Nelson and Mark Tauscher, as well as other professional football, baseball and basketball players are part of the blue and gold fraternity.
While FFA won't guarantee your place on a "Who's Who" list of past FFA members, the organization develops young people's skills and talents. Some happen to turn out to be famous . . . others just become famous in their small towns.
---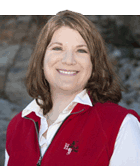 The author is the online media manager and is responsible for the website, webinars and social media. A graduate of Modesto Junior College and Fresno State, she was raised on a California dairy and frequently blogs on youth programs and consumer issues.