At the National Guernsey Convention held earlier this week in Minneapolis, Minn., members listened to a presentation on genomics by Laurel Mastro of Neogen Corporation.
While Holsteins started receiving official genomic information in 2009, April 2016 was the debut of Guernsey genomics. Mastro provided an overview of genomic testing.
Genomic testing is more inclusive than just providing a genetic value. It also helps identify and correct parentage errors. According to Mastro, there is about a 15 to 20 percent rate of parentage errors on farms. That means about one in every five genomic samples submitted from all breeds has the wrong sire or dam identified on the registration paper. However, it was announced that the Guernsey breed has a significantly lower incidence of misidentification than the average.
The benefit of testing animals with incorrect parentage is that the animal's genes can then be compared to the available male population in the breed's database to determine if the correct sire is in the genetic pool of males. Other tests can be done at the same time, such as identifying polled and Bovine Viral Diarrhea (BVD) gene carriers.
Perhaps the most exciting test for the Guernsey breed right now is for the A2 beta-casein protein, a protein found in a majority of Guernsey cows. A2 is a protein that is considered to be easier to digest and therefore has marketing appeal for those with milk sensitivities. The GeneSeek testing lab for Neogen is the only lab certified to test for the A2 milk component, with a royalty being paid to the A2 Company that owns the naming privileges on A2.
This gene is most common in the Guernsey breed (homozygous A2A2 is the most desirable). Thought leaders would like to be able to take advantage of this tremendous marketing opportunity and be rewarded for it by consumers. This is certainly an area of interest and excitement among Guernsey breeders.
---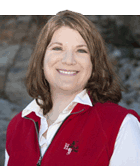 The author is the online media manager and is responsible for the website, webinars and social media. A graduate of Modesto Junior College and Fresno State, she was raised on a California dairy and frequently blogs on youth programs and consumer issues.