With a healthy margin of victory, four members of the Spencer County FFA chapter took home the top prize at the 2016 National FFA Convention in Indianapolis, Ind.
For this national FFA contest, all four team members' scores must count. Kentucky FFA outpaced the next team, Florida, by 148 points, and all four Kentucky teammates were in the top seven individuals in the National FFA Dairy Cattle Evaluation and Management Career Development Event (CDE).
Following Kentucky and Florida were teams from Ohio, California, Minnesota, Georgia, Wisconsin, Connecticut, Missouri, and New Mexico. Seven of the top 10 state teams also competed at the All-American Dairy Show in Harrisburg and placed in the top 10 there as well. However, team members may have been different between the two contests. The top three teams from Indianapolis are invited to participate in the Royal Highlands Show in Scotland next summer.
The high individual was also a Southern judge. Ainsley Peterson is from the Lafayette FFA chapter in Florida and she won by an eight-point margin. Individual scores are a combination of classes, reasons, the written test, and DHI evaluation.
Peterson was followed by David Williamson, Spencer County FFA, Kentucky; Sarah Lehner, Buckeye Valley FFA, Ohio; Michael Bentley, Spencer County FFA, Kentucky; Brandon Almeida, Hilmar FFA, California; John Brumley, Spencer County FFA, Kentucky; Maxwell Dippel, Spencer County FFA, Kentucky; Todd Allen, Brunswick FFA, Maryland; Matthias Annexstad, South Central Agri Science Academy FFA, Minnesota; and Megan Davenport, Woodbury FFA, Connecticut.
The contest includes a written test on dairy management, evaluation of DHI records, six classes of dairy cattle to judge, three sets of oral reasons, and a team activity that includes evaluating a farm and providing feedback on the farm's reproductive performance. The topic of the team presentation changes each year and is similar to ever-popular National Dairy Challenge.
---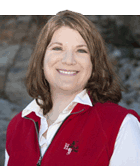 The author is the online media manager and is responsible for the website, webinars and social media. A graduate of Modesto Junior College and Fresno State, she was raised on a California dairy and frequently blogs on youth programs and consumer issues.