The chicken or the egg debate has been around for ages. But, in the field of animal care, the discussion of inflammation and its sources, or its repercussions, was presented by Barry Bradford, Kansas State University, during Hoard's Dairyman's monthly webinar series.
He honed in on the transition period – the most challenging time for dairy cows. Inflammation is common in early lactation and is stimulated by multiple pathways. The research he presented showed a high correlation between cows with metritis being more prone to develop ketosis and mastitis. On the flip side, cows with ketosis were more likely to be affected by metritis and mastitis.
"Inflammation around calving: What does it mean and how should we approach it?" presented an in-depth look at the cow's immune system dynamics and how infections stimulate a sequence of events.
The cow's immune system responds to illness and infection. This often manifests itself in the form of inflammation. Cows with lower levels of inflammation have fewer metabolic disorders. Those disorders often lead to lower milk production in early lactation and premature culling.
Reducing swelling by administering nonsteroidal anti-inflammatory drugs on the day of calving may interfere with inflammatory signals needed to expel the placenta. So, attempting to reduce swelling, may lead to issues you are trying to prevent.
Research has been conducted on ways to reduce inflammation before it occurs. In one trial, cows were given two different anti-inflammatories right at calving. Results looked promising with both treatments resulting in higher milk yield combined with improved health. However, neither treatment has been approved by the FDA.
"Some degree of inflammation is probably necessary, but too much promotes disorders," concluded Bradford.
This webinar was sponsored by Virtus Nutrition and can be viewed here.
Previous webinars are archived, and can be
watched here
.
---
John Goeser
Join Us for next month's webinar:
"Exploring how this year's forages will feed" on Monday, December 12, at noon (Central time).
John Goeser, Rock River Laboratory, will discuss the campfire within the rumen, which in turn will help explain how and why crops feed differently. Due to a challenging corn silage and grain harvest, we will also explore potential nutrition robbing factors in this year's feed. Register at www.hoards.com/webinars.
---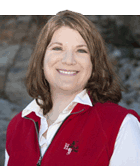 Patti Hurtgen
The author is the online media manager and is responsible for the website, webinars, and social media. A graduate of Modesto Junior College and Fresno State, she was raised on a California dairy and frequently blogs on youth programs and consumer issues.