The iconic song by Queen resounded in the coliseum immediately following the selection of Grand Champion and Reserve Grand Champion of the International Junior Holstein Show that went to the pair of Senior Champions. "For us, it's the combination of their maturity and the fact that they are on the money today that give them the advantage over those two young cows," stated Judge Lynn Harbaugh after selecting the pair of overall champions.
Crowned Grand and Senior Champion was the winner of the Five-Year-Old class, Walk-Era Dundee Annelise, for owners Trevor Tuman and Chandler Bening of Minnesota. Following behind her for Reserve Senior and Reserve Grand Champion was Douglas Boop's 150,000 pound production class winner, J&K-Vue Goldwyn Glamour-ET. Boop hails from Pennsylvania.
Judge Harbaugh and Associate Judge Ryan Krohlow, both from Wisconsin, sorted through the largest junior show to date at World Dairy Expo. They evaluated 173 heifers and 96 cows for a total of 269 head in a tremendous quality junior show that paraded on the blue shavings Tuesday.
The Champion Bred and Owned Cow went to the Intermediate Champion and Honorable Mention Grand Champion APGambo Atwood Keenan. The winning Junior Three-Year-Old was exhibited by Alexandra Gambonini of California. Reserve Intermediate Champion was awarded to Illinois's Connor Erbsen and his Senior Three-Year-Old cow, Sunnyhome McCutchen Mildred.
Wisconsin juniors were well represented during the heifer show with champions all hailing from America's Dairyland. Junior Champion of the show was the top Summer Yearling, Petitclerc Atwood Spoutnik-ET, for owners Bilz, Schachelmayer, Chambers, Bufton & Blue. Budjon-Abbott Automatic-ET, the winning Winter Calf, was selected as Reserve Junior Champion exhibited by Alli Walker. Champion Bred and Owned of the heifer show was the winning Winter Yearling, Tree-Hayven Integral Declan, owned by Aaliyah Borchert.
---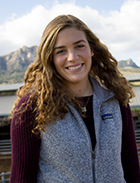 Elise Regusci grew up on her family's farm in Modesto, Calif. Regusci attends Cal Poly University, majoring in dairy science with an agricultural communication minor. On campus, she is the Los Lecheros Dairy Club Ag Council representative and a member of the Cal Poly dairy judging team. Regusci is the current Brown Swiss Youth Ambassador and is the 2017 Hoard's Dairyman summer editorial intern.