Volunteering at a judging contest that I participated in during high school has been a rewarding experience. As a junior in college now, I have helped put on the California FFA State Dairy Judging Finals contest for three years .
This past weekend, the Cal Poly Dairy Science Program organized the annual dairy cattle judging contest for over 100 high school students. Contestants evaluated six classes and a pedigree class. Watching the contest come together from start to finish makes me appreciate all the time and effort people put into organizing dairy judging contests for youth.
Choosing classes that are good quality is something I have learned takes skill. Sometimes four cows look like they will make a great class in the barn, but when it comes to the day of the contest, they all look too similar or they don't fit as well together. Volunteering at the contest has helped me further develop my dairy judging skills and confidence in my opinions.
Without the help and dedication that students and our faculty put in each year, the contest would not have gone smoothly. From volunteers to watch the cattle throughout the night to group leaders to a fitting crew, volunteers make the contest possible.
I competed in the contest for four years in high school, and it was one of the reasons I decided to come to Cal Poly. I remember being excited to go to Cal Poly and judge in the state contest. Being on the other side of the contest, I've learned the time and energy that it takes to organize a successful day. I'm grateful for the opportunity to give back by volunteering at a contest that means so much to me.
---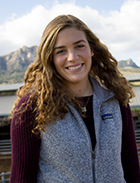 Elise Regusci grew up on her family's farm in Modesto, Calif. Regusci attends Cal Poly University, majoring in dairy science with an agricultural communication minor. On campus, she is the Los Lecheros Dairy Club Ag Council representative and a member of the Cal Poly dairy judging team. Regusci was the 2016 Brown Swiss Youth Ambassador and was the 2017 Hoard's Dairyman summer editorial intern.
---
Join us next week
Trevor DeVries presents "Calf rearing affects lifetime eating behavior" on Monday, May 14, 2018, at noon (Central time).
The feeding behavior patterns of dairy cattle are known to impact health, productivity, and welfare. Trevor DeVries, University of Guelph, will discuss how the way we feed, house, and manage calves impacts the learning and persistence of their feeding patterns.
The webinar is sponsored by AAS.