Earlier this week, I had the amazing opportunity to attend the Agriculture Future of America (AFA) Animal Institute. This three-day conference in Kansas City, Mo., brought together undergraduate students from across the nation to learn more about the animal health industry. The Animal Institute is based in the "Kansas City Animal Health Corridor" where many animal health companies are located. About 90 students visited 23 different companies ranging from nutrition to pharmaceutical.
The days were jam packed with opportunities to network with both industry leaders and our peers. Participating in a panel discussion with members from the industry on the first night of the Animal Institute got me thinking about the variety within the animal science industry. As I am looking to find my path within agriculture, the conference showcased different jobs as well as concentrations to consider.
My favorite part of the AFA Animal Institute was the Industry Tour Day. We were divided into six tour groups and spent the whole day exploring the Kansas City Animal Health Corridor. My tour group visited the Kansas City Zoo, Dairy Farmers of America, Smithfield, and Ceva Animal Health. The tour day featured a variety of companies, which I enjoyed because I am always trying to learn more about areas I don't have a lot of experience in. Visiting Dairy Farmers of America's (DFA) new headquarters was a highlight of the trip for me. We learned about the cooperative including how DFA is structured and the global aspect of the dairy industry.
The AFA Animal Institute broadened my perspective of animal science. I learned networking tools, more about animal health companies, and the different careers within animal science. I am excited to start my career advocating for farmers and ranchers after attending the AFA Animal Institute!
---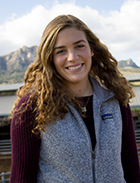 Elise Regusci grew up on her family's farm in Modesto, Calif. Regusci attends Cal Poly University, majoring in dairy science with an agricultural communication minor. On campus, she is the Los Lecheros Dairy Club Ag Council representative and a member of the Cal Poly dairy judging team. Regusci was the 2016 Brown Swiss Youth Ambassador and was the 2017 Hoard's Dairyman summer editorial intern.