A consumer interest in a non-GMO label encouraged Congress to approve a standard in June 2016 to require labeling of any products containing GMOs as genetically modified by text, symbol, or an electronic digital link. Since the law passed, many have wondered what place non-GMO verified products might hold on the shelf.
Recently, a study from the University of Florida and Purdue University surveyed more than 1,000 consumers to gauge their perspectives on labeling. Specifically, the study compared the "USDA Organic" label with the "Non-GMO Project Verified" label.
They compared two products, a box of granola bars and a pound of apples. Consumers said they were willing to pay an extra 35 cents for granola bar boxes that had the text "non-GMO Project" compared to boxes labeled "contains genetically engineered ingredients." Consumers were willing to pay 9 cents more for "USDA Organic" compared to "contains genetically engineered ingredients."
Apples were a different story. Consumers were willing to spend an additional 40 cents for those labeled "USDA Organic" and 35 cents more for those labeled "non-GMO Project."
Lead researcher Brandon McFadden said this indicated consumers don't distinguish well between the definitions of the two food labels.
Certainly it appears as though different product types and labeling schemes change consumer perceptions, but it's also hard to say exactly what will grab their attention. In fact, it appears as though we have a long way to go in understanding consumer preferences and how to meet them both in the food we produce and the way we label it.
---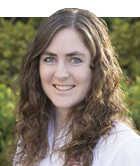 The author is an associate editor. She covers feeding and nutrition, youth activities and heads up the World Dairy Expo Supplement. Maggie was raised on a 150-cow dairy near Valley Center, Kansas, and graduated from Kansas State University with degrees in agricultural communications and animal sciences.