It has started to look a lot like Christmas at Hillcrest Farms. The weather has officially become what we consider pretty chilly here in Georgia. Lows for the day are starting out in the upper 20°F to low 30°F range, with the highs peaking in the mid-50s. Georgia even had its first good snow this week.
Christmas decorations have been put up around the farm. We light up an old Oliver tractor, we decorate the beginning of the driveway, and we always have a hay bale decoration display.
Every year we change up the hay bale décor. This year our hay bale decoration is in the form of a minion with a red nose and antlers tangled up in Christmas lights. It is always neat to see people in the community stop in and take pictures with the decorations.
Christmas is one of our favorite times of the year. We spend a lot of time with family. We make sure each of our staff members has a good Christmas as well. The staff comes together and we all agree on our schedules to make sure the farm is still running in top notch shape while giving all employees time off to enjoy the holidays with their families.
We give special thanks for the birth of our Savior Jesus Christ, who left his home in glory to become a man in order to die for our sins. Truly, we are blessed.
From all of us here at Hillcrest Farms, we hope you have a wonderful Christmas!
---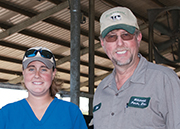 Caitlin and Mark Rodgers
Mark and Caitlin Rodgers are dairy farmers in Dearing, Georgia. Their "Father and Daughter Dairy Together" column appears every other Thursday on HD Notebook. The Rodgers have a 400-cow dairy that averages 32,000 pounds of milk. Follow their family farm on Facebook at Hillcrest Farms Inc.