Growing up and grocery shopping with my mom, I remember grabbing cheese, butter, cottage cheese, milk, and yogurt almost every time we went to the store. She used these items in a lot of her cooking and baking, and of course we would snack on the cheese and yogurt. Now I am in college and doing my own shopping, I have noticed that a lot more items are marketed for "snacking" or "on the go." They even come in single-serving packaging and often boast on the label "twice the protein" or "half the sugar."
It seems like dairy has gotten a little bit of a makeover; shedding its sugar, condensing its nutrients, and using more in-your-face marketing. Here are a few items I see that are setting the stage for a more "on the go" and colorful atmosphere in the dairy aisle.
More than milk
Yes, milk is nature's most perfect food, but technology can make it even more perfect . . . and so can pairing it with coffee.
Shamrock Farms located in Phoenix, Ariz., is all about on-the-go milk options, and they just rolled out ready-to-drink protein milk beverages as an after workout drink. Milk, especially chocolate, has been deemed the gold standard post workout drink by dietitians and athletes because it offers protein, vitamins, electrolytes, and sugar that your body wants and needs after exercise. Shamrock Farms has also created a protein milk drink with coffee that they are launching nationally this summer.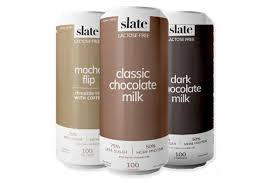 Slate Chocolate Milk
, a start-up from Boston, Mass., is still in its crowdfunding stage, but I have been following this product for a while and think it is awesome how much
the founders love chocolate milk
. However, Slate understands that chocolate milk isn't perfect, and their goal is to create a line of flavors that fulfill people's sweet tooth but have 75 percent less sugar. Their milk goes through ultrafiltration to remove lactose and then condense the amount of protein.
They also bake then cool their milk through a technique known as the retort process (a lot of coffee cold brews that contain milk do this). It preserves the milk, so it doesn't need refrigeration. Their marketing uses a sleek aluminum can, which is a makeover for chocolate milk and gives it a trendy look.
Fueling kids
It's obvious that children need adequate nutrition for growth and mental development, and an obvious way to get a lot of that nutrition is by eating dairy. These companies are on the right track to better children's diets and have tapped into a recently neglected audience . . . kids.
Ingenuity Brands out of San Francisco, Calif., launched Brainiac Kids, yogurts that specifically help develop brains. They make whole-milk yogurts that are high in omega-3s, alpha-linolenic acid, and choline, which support childhood brain development. They got input from parents, pediatricians, nutrition scientists, and neurologists, so we know its legit. Right now, Brainiac Kids are sold in Central Texas, as well as through Good Eggs, a San Francisco based online grocery delivery service. Let's hope they make it big and get brain nutrition to children everywhere!
Next, We all know the Greek yogurt God, Chobani, but this is more of a kudos to Chobani's marketing campaign for their new kid's yogurt brand, Gimmies. Personally, I think they struck gold with this one.
Gimmies is marketed to children between the ages of 5 and 9. The new product line includes milkshakes for on-the-go snacking, tubes that parents can pack in kids' lunchboxes, and flip yogurt cups. Some of their flavors are Poppin' Cotton Candy, Choco Chunk Cookie, Best Birthday Ever, and Super Berry Rocket, which just sound cool. Besides this, Chobani has lessened the amount of sugar and doubled the amount of protein compared to its competitors, which is how they convince parents to buy it.
Filling snacks and flavorful desserts
Through more single-serving packaging and product innovation, a variety of dairy foods have made their appearance known in the snack and dessert categories, as well.
DairyPure, a brand of Dean Foods, is bringing cottage cheese back . . . yup . . . but this time with mix-ins. Much like the yogurt flip cup, except with cottage cheese and savory flavors! Their flavors include blackberries and granola, as well as creamy jalapeno and tortilla strips and sundried tomato and croutons. These mix-ins are marketed as low-fat and high-protein and are a single-serving, so they fall in the on-the-go snacking category.
Last, but not least, is My/Mo Mochi Ice Cream. My local grocer just started stocking this, and that's how I first found out about it. It is ice cream covered in sweet, chewy, rice dough called Mochi. Each serving is pretty much bite sized, and the ice cream has little air added to it, which makes it creamy and flavorful. They have the traditional flavors but also have creative ones like S'mores, Green Tea, and Sweet Mango. It is sold nationally at local grocers and Target. Give it a try!
---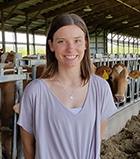 Christy Achen
Christy Achen was the 2018 Hoard's Dairyman summer editorial intern. She grew up on a dairy farm in southwest Kansas. Achen is currently a senior at Utah State University studying agricultural communications and journalism.