I can officially say I am a college graduate. This past week, I finished my fourth and final year of college and graduated from Utah State University with a degree in agricultural communications and journalism. While at Utah State, I was part of the dairy science club and the college's Agricultural Communicators of Tomorrow Chapter. And while I may now have a degree that says I am an ag communicator, my education started long before I came to college.
Growing up, I was the girl in school known for being obsessed with everything cows and farming. I loved talking about agriculture and sharing all the things I learned on my family's dairy, and once I went to college that didn't change. In my journalism news broadcast class, I was our designated dairy correspondent. Anytime there was a story about cows, farming, or ice cream, my classmates pretty much expected me to cover it, which I was happy to do.
Being a dairy farmer is something I have always been proud to share. My mom and dad have both been dairy farmers for most of their lives and are the ones who inspired me to be proud and passionate about it.
My mom loves working outside and being around cattle. I have heard her say many times that she would rather bed calves than do dishes or clean the house . . . and most of us know bedding up hutches is not the most fun job. She grew up on a dairy farm and has always been an advocate herself. She taught me almost everything I know about cows. Besides my siblings and me, she has also been a teacher to many other people. She coached our county dairy judging and quiz bowl teams, and gives tours of our dairy to schools, FFA chapters, and community groups. One of the reasons I enjoy teaching and sharing knowledge so much is because she has been such a great teacher in my life.
My dad on the other hand did not grow up milking cows, but I believe that is his greatest asset. He does not take anything for granted and will learn from someone else or teach himself what he needs to know to successfully take care of cows, manage people, and run a business. From him, I have learned that barriers and obstacles are part of life, and that if you put in the time and effort, you can get to where you want to be.
Growing up and living on a dairy farm has been one of my greatest educations. It has instilled a passion and drive in me that can't be matched.
---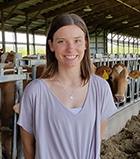 Christy Achen was the 2018 Hoard's Dairyman summer editorial intern. She grew up on a dairy farm in southwest Kansas. Achen graduated from Utah State University with a degree in agricultural communications and journalism.