One sire, two cows, and three big awards. Senior and Grand Champion honors, as well as Best Udder went to Highcroft Absolute Lily-Red. Reserve Senior and Reserve Grand Champion was awarded to Meadow-Green Abso Fanny-Red. Lily and Fanny were both sired by Apples Absolute-Red-ET, who also secured the Premier Sire banner.
Lily is owned by Glamourview-Iager/Walton and Eaton Holsteins of New York. Fanny, the Production Class winner, is owned by Triple-T of Ohio; T&L Cattle of Canada; Mike Berry of Oregon; Frank and Diane Borba, and Frank and Carol Borba of California.
Intermediate Champion went to the Junior Two-Year-Old winner, Weeberlac Tickle Me-Red-ET, owned by Blondin, A. Phillips, and K. Wolf. Tickle Me was sired by Mr App Avalanche. Ms Awesome Atomic-Red-ET, the winning Senior Two-Year-Old Cow, took Reserve Intermediate Champion honors for Kevin Doeberiener, Lindsey Bowen, and B. Schilling.
A fancy fall calf took Junior Champion honors of the open show for two junior exhibitors. Molly Olstad and Tristen Ostrom own Milksource Thunder-Red-ET, a Mr App Avalance daughter. The winter yearling Knonaudale Light My Fire-Red-ET was Reserve Junior Champion for Westcoast Holsteins of British Columbia, Canada. Light My Fire was sired by Cycle McGucci Jordy-Red.
Premier Breeder was awarded to the Apple Partners of Illinois and Premier Exhibitor went to Crescentmead, Grady and Lane Wendorf of Wisconsin. Flower-Brook took reserve for both banners.
The Junior Show
Milksource Thunder-Red-ET took Junior Champion honors over Knonaudale Lite My Fire-Red-ET, exhibited by Kaila Stoltzfus of Pennsylvania.
Mead-Manor Def Adeline-Red was named Intermediate Champion, Grand Champion, and Best Bred of the Junior Show for breeder and owners Mike and Megan Moede from Algoma, Wis.
Pennsylvania's Matthew Boop and Cael Hembury exhibited the Senior Champion and Reserve Grand Champion of the Junior Show with Cherry-Lor Ladd Ripple-Red. Reserve Senior Champion was Long-Brook Ab Sweety-Red-ET for Pennsylvania's Victoria Clark.
---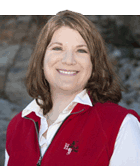 The author is the online media manager and is responsible for the website, webinars, and social media. A graduate of Modesto Junior College and Fresno State, she was raised on a California dairy and frequently blogs on youth programs and consumer issues.