It was a battle all day at the North American International Livestock Exposition for the Dairy Bowl contest. Seventeen teams from Washington to Massachusetts competed. Wisconsin was undefeated when they faced New York in their third round of the day. Wisconsin won this semi-finals matchup and sent the Empire State to the consolation bracket. New York worked their way back to the finals to face Wisconsin again. This time, the result was different. Wisconsin lost, forcing a winner-take-all match for the championship.
After the last question was answered, the Wisconsin team set its buzzers down, relaxed their arms, and joined hands behind the skirted table as the results were read. After team questions, toss-up questions, and written test scores were added, Wisconsin emerged as national champions. Cheers and a few moist eyes erupted from the four ladies dressed in matching purple dresses. This victory halted New York's championship run of five consecutive wins and keeps their total at 15 total championships.
It was only the Badger State's third title in the 40-year history of the contest. This year's team consisted of team captain Grace Haase, Courtney Glenna, Katherine Elwood, and Courtney Stream. They hail from Polk County in northwest Wisconsin. This team has been studying once a week for two years and twice a week for the past year in various disciplines — dairy judging, dairy bowl, and dairy management. They are coached by Gwen Dado and Patti Hurtgen.
New York 4-H selects individuals from across the state to form its national team. They included team captain George Andrew Jr., Morgan Depue, Vidal Pirrone, and Phillip Rea. They are coached by Debbie Grusenmeyer and Matt Young.
Taking third was Iowa, who lost matches to both Wisconsin and New York earlier in the day. Minnesota was fourth, finding defeat at the hands of Iowa twice. Honorable mention went to Pennsylvania and Georgia. Pennsylvania lost to Iowa and Maryland. Georgia lost to New York and Minnesota.
The written test
A 50-question test was administered the previous evening to create the bracket matchups. These scores are also added to the points earned in the head-to-head competition the following day.
Exam scores also give individual recognition in this team competition. Here are the top test scores:

Morgan Depue, New York
George Andrew Jr., New York
Courtney Glenna, Wisconsin
Katherine Elwood, Wisconsin
Gregory Gathje, Minnesota
Amber Engelken, Iowa
Caleb Palazzo, Vermont
Caroline Arrowsmith, Pennsylvania
Maya Jerose, Vermont
Grace Haase, Wisconsin
During the evening banquet, special tribute was given to two longtime dairy bowl officials who passed this year — Pete Spike from Ohio State and Kathy Lee from Michigan State. Their years of commitment to this national dairy bowl program was acknowledged with a moment of silence.
The Dairy Bowl contest is organized by extension dairy specialists Donna Amaral-Phillips, University of Kentucky, and Warren Gilson, retired, University of Georgia. After decades of service to the contest, Warren is stepping down from the leadership role. His contributions were appreciated by a standing ovation by the room full of contestants, coaches, and parents.
Generous sponsors make the event possible. They include the American Dairy Science Association, National Dairy Shrine, North American International Livestock Exposition, Perdue Agribusiness, Select Sires, and Hoard's Dairyman.

---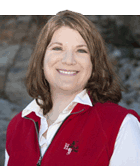 Patti Hurtgen
The author is the online media manager and is responsible for the website, webinars, and social media. A graduate of Modesto Junior College and Fresno State, she was raised on a California dairy and frequently blogs on youth programs and consumer issues.