Many dairy farms around the country belong to a cooperative that helps market and promote their milk, perhaps while also providing other farm support services. In fact, USDA calculated in 2017 that 85% of U.S. milk marketed was handled by a co-op.
Some dairy co-ops are large, with hundreds or thousands of farms and millions of pounds of milk processed. Others serve only a handful of farmers, while many are somewhere in between. Still, the goals of a cooperative are relatively similar, no matter the size.
At its most basic level, a co-op is a group of people coming together to achieve something they couldn't individually. In dairy, this plays out as pooling resources to market, and often process, members' milk.
Cooperatives exist across much of agriculture as well as in other industries. Ocean Spray, for example, is a co-op of cranberry farmers, and Sunkist Growers — yes, like the soda — supports citrus farmers by marketing and processing their fruit. Agricultural supply cooperatives, such as Southern States, are businesses that serve many different types of farms by purchasing input supplies in bulk from manufacturers and selling them at a more economical rate to individual farmers.
Back on the manufacturing side, cooperatives give farmers a say in how their product is handled and marketed. Members own the organization, elect its leaders, and make it thrive. It's a forum for discussion of successes and concerns.
In 2019, the 100 largest agricultural co-ops in the U.S. served 634,552 members and employed 101,386 people across 3,837 locations. Sixty-four of the top 100 have been in operation for more than 75 years.
While most of the largest cooperatives have diverse operations, 18 marketed milk and dairy products. Behind CHS Inc., which is the largest cooperative of any kind in the U.S., Dairy Farmers of America was the second-largest agricultural co-op with $16.3 billion in revenue, and Land O'Lakes claimed the third spot with revenue of $13.9 billion.
Small and mid-sized agricultural co-ops are also critical to sustaining rural America and our nation's farmers. In fact, cooperatives outside of the largest 100 support two-thirds of all ag co-op members!
However a cooperative serves you, it is designed to do just that — make your life and your farm better and more successful. Dairy cooperatives hold a powerful and useful place in our industry, connecting farmers with the people purchasing their product.
---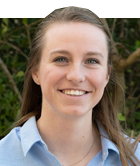 Katelyn Allen joined the Hoard's Dairyman team as the Publications Editor in August 2019 and is now an associate editor. Katelyn is a 2019 graduate of Virginia Tech, where she majored in dairy science and minored in communication. Katelyn grew up on her family's registered Holstein dairy, Glen-Toctin Farm, in Jefferson, Md.