The national and local dairy checkoffs have teamed up to launch the Your Dairy Checkoff podcast. The purpose of the podcast is to answer questions you may have about checkoff promotion and to showcase the collaboration to build dairy sales and consumer trust.
Podcasts have become quite popular, and it is great way to get in-depth news on the go. If you've never downloaded a podcast and listened, here's an easy way to do that if you have an iPhone or an Android.
Two dairy farmers and industry experts will host each episode and interview guests based on topics that farmers want to know about, including consumer research, retail and restaurant promotions, exports, dairy product innovation, and schools. Farmers can suggest topics through
dairycheckoffpodcast.com
or the
Dairy Checkoff Farmer Facebook group.
The first episode focuses on the effort of local and national checkoff teams to reach the next generation of dairy consumers through gaming. Gen Z includes people ages 10 to 23, and with 90% of Gen Z active in gaming, it's a great way to share dairy's farm-to-table story in an engaging, interactive way. Gaming is a $100 billion industry that's larger than sports, film, and music combined.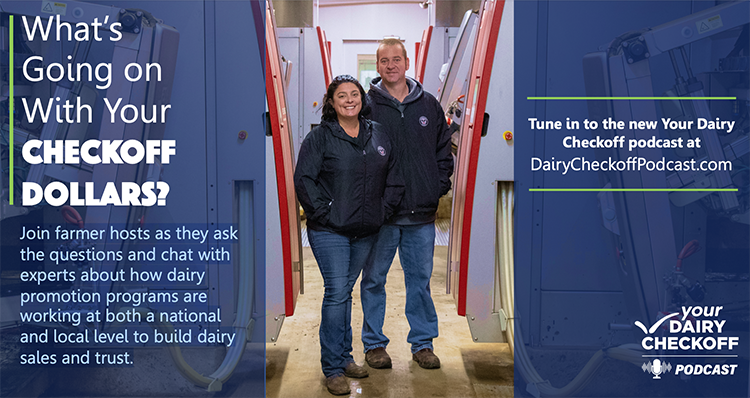 Future episodes will have conversations about what really drives kids to select milk as a beverage of choice at schools, our national and local pizza partnerships working together to drive product innovation, and how the largest school health and wellness program – Fuel Up to Play 60 -- works directly with the NFL to encourage healthy eating (including dairy consumption) and exercising regularly.
Dairy farmers and industry professionals can subscribe to Your Dairy Checkoff on most platforms, including Apple Podcasts, Stitcher, Spotify, and others. If you want to know more about the podcast, please visit dairycheckoffpodcast.com.

To learn more about your national and local dairy checkoffs, visit www.USDairy.com or send a request to join our Dairy Checkoff Facebook group.
---
The author is a Senior Vice President of Digital Initiatives at Dairy Management Inc.