Continuing education comes in many forms. Some students looking to pursue post-high school training in dairy production choose a technical college degree. One such option is the dairy management program offered through Lakeshore Technical College in northeastern Wisconsin.
As the program's school year wrapped up this spring, one student was presented with the Hoard's Dairyman Award. The winner of this award is evaluated in the areas of character, academics, and community focus and is selected by their fellow students.
The 2023 honor was awarded to Jillian Chybowski from Cedar Grove, Wis. While some dairy science students come from a long line of dairy producers, Chybowski is the first in her family to be involved in agriculture, according to her instructor, Megan Kulow. Her interest in dairy and appreciation for cows began when she participated in a youth apprenticeship program during high school and milked on a local farm. She also took classes through Lakeshore Technical College during her junior and senior years of high school. That led her to pursue a degree through the college's dairy management program. Chybowski completed an internship at a dairy farm and will continue her degree in dairy business management next school year.
This passionate young lady is a perfect example that future employees of the dairy industry will come in many forms. Although she doesn't have lifelong experience in production agriculture, she is eagerly building up her résumé and skillset to pursue a career in dairy following graduation.
Her instructor followed a similar path. Kulow wrapped up her first year of teaching at Lakeshore Technical College, but she has been involved in agriculture for the past 20 years. Her first dairy job included milking and feeding cows on the campus dairy at the University of Wisconsin-Madison where she was pursuing degrees in dairy science and animal science. That is what ignited her love for dairy cows, and she went on to work in various dairy positions both on farms and at the university. She also earned a master's degree and her Ph.D. Kulow said this current position fits her well and she is excited to be part of a hands-on, cutting-edge, and practical learning experience for students.
In a dairy industry that keeps evolving, there is so much that can be learned. Both on-farm experience and classroom knowledge can be helpful for anyone making their living in the dairy industry.
---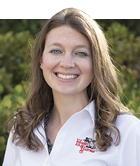 Abby Bauer
The author is the senior associate editor and covers animal health, dairy housing and equipment, and nutrient management. She grew up on a dairy farm near Plymouth, Wis., and previously served as a University of Wisconsin agricultural extension agent. She received a master's degree from North Carolina State University and a bachelor's from the University of Wisconsin-Madison.