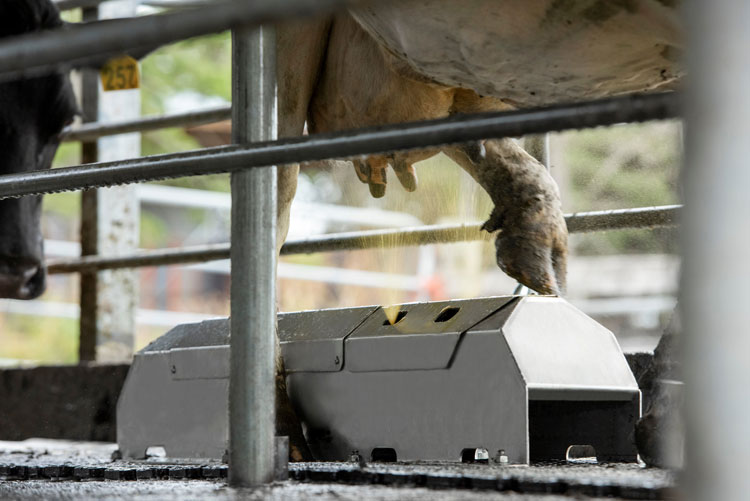 Parlor automation technology decreases labor demands and brings consistency to the milking routine. And you can add many of these solutions to new or existing parlors of any style or brand. You do not need a new facility or a lot of concrete work to take advantage of parlor automation.
You can expect more consistency from cow to cow with any automation product. But successful implementation is not possible without thoughtful planning, preparation, and follow-up.
Weigh your automation options
The most common partial automation parlor technologies replace one or more pre- and post-milking steps. Identify your greatest challenges to pinpoint where you can best streamline your current process.
Some of the most common automation technologies for the parlor are:
Stepover sprayer: A stepover sprayer automatically applies pre- or post-dip to cows in the parlor entrance and exit lanes. It can work with any parlor configuration, allowing you to use your parlor staff for more critical milking tasks or management needs.
Teat dip spray arm system: Delegate the pre- or post-dipping task to an automated arm at the entrance or exit of a rotary parlor system. Options today have simple mechanics, do not take up much space, and provide a quick return on investment. An automated teat dip spray system helps ensure cows are dipped efficiently without slowing down the rotary – reducing the number of people necessary for each milking shift.
Teat prep system: An all-in-one treat scrubber brush system cleans and stimulates teats before milking. These systems require an employee to operate but can greatly speed up the teat prep process and reduce procedural drift. Dairies can achieve better milk flow rates, maximize parlor throughput, and achieve healthier teat ends.
Considerations before commitment
Teat dip options and cost: The amount of teat dip used by any automated sprayer can be more than manually dipping. Work with your milking equipment dealer and manufacturer from the start so you know the volume necessary for effective coverage, and weigh that against the labor savings. Always ask for a complete list of teat dips you can use in a system, along with the efficacy and cost.
Airflow: You may need to adjust ventilation to get better teat dip coverage in spray arm or walkover systems. For example, air blowing into the parlor from fans or overhead doors can inhibit spray accuracy. Closing a door or redirecting fans can help. Adding shrouds on the side of stepover sprayers helps control airflow in the holding area.
Maintenance: Plan for downtime. Know the maintenance requirements and keep spare parts on hand. Many farms can perform basic maintenance themselves; others have their dealer do it – it usually depends on their comfort level. If you plan to rely on your dealer during a breakdown or for scheduled maintenance, set expectations with them so you can get back up and running quickly.
Ensure you and your team receive proper training on the equipment so you know what to look for to keep the system operating at peak performance.
GEA offers today's progressive dairy producers leading-edge milking and manure equipment technology, along with a full line of aftermarket products and services – all under one umbrella. With GEA, you truly have a team who offers comprehensive solutions for your operation at the highest possible operating efficiency.