The initial steps onto the colored shavings were of the Junior Holstein exhibitors as they kicked off the first show of this year's World Dairy Expo. Judge Callum McKinven of Quebec and his associate judge, Matt Mitchell of Tennessee, sorted through 274 entries to select the champions of the show.
Sophie Leach, of Linwood, Kan., had a memorable evening, receiving top honors of Senior and Grand Champion with her Five-Year-Old, Lin-Max Beemer Sweet Pea. "A cow that to me is the epitome of balance and dairy strength. This cow here just floors me when I am standing here," judge McKinven mentioned during his selection for the Senior Champion of the show.
Dappleview Tatoo Ella, exhibited by Tristen Ostrom of Kaukauna, Wis., was selected as the Intermediate Champion and Reserve Grand Champion of the show.
The Reserve Senior Champion Female of the Junior Show was Ms Triple-T Grateful-ET, owned by Colton Thomas of North Lewisburg, Ohio. Reserve Intermediate Champion Female of the Junior Show was Ms Gw Atwood Desire, exhibited by Isabella Pires, Modesto, Calif.
Champion Bred and Owned of the Junior Show was Forward Blossum, shown by Emma, Sara, Wyatt, and Claire Dorshorst of Marshfield, Wis.
Earlier in the day, Farnear Adios 3415-ET, owned by Ana, Carson, and Colin Rauen of Dyersville, Iowa, won the winter heifer calf class and was named the Junior Champion of the show. McKinven stated, "This heifer to me, she's perfect. When you see her moving, she just reaches out and grabs you."
Additionally, the honor of Reserve Junior Champion went to Ladys Lambda Loveless-ET shown by Chandler and Calvin Bening of Lomira, Wis. The Junior Champion Bred and Owned heifer was Ryan-Vu Crushtim Starstruck, owned by Dylan and Cameron Ryan of Fond du Lac, Wis.
McKinven closed out the show by saying, "I love judging juniors. I love working with juniors. I love to see them grow up and get their own animals and show. That's our future, right there in front of us."
---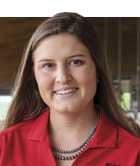 Madison Sifford
Madison Sifford was the 2023 Hoard's Dairyman Editorial Intern. She is a student at Virginia Tech majoring in dairy science and communications. Madison grew up in North Carolina before moving with her parents and sisters to Goldvein, Va. Her family raises Holsteins on their Plessed-Rose Dairy, and they also have a small Hereford cow-calf operation.