Methane digester interest continues to grow, as a near capacity crowd filled the conference room at the Holiday Inn, Liverpool, N.Y. AgStar, a joint initiative of USDA, EPA, and the Department of Energy, held its annual conference in partnership with New York's PRO-DAIRY program. Nearly 40 experts, be they farmers, researchers, or industry professionals, will speak today and tomorrow on their experiences, challenges, and mistakes with anaerobic digestion. The preconference tour featured three very different digester operations that we'll summarize below.
Cayuga County Soil and Water Conservation District
The first we visited was a community digester run by the Cayuga County Soil and Water Conservation District. This digester is in its infancy, just beginning to be filled with manure. Its manure is coming from two farms and 1,500 cows. Like the two other sites we visited, they were using substrates (additives to boost energy production) including food waste and brown fat.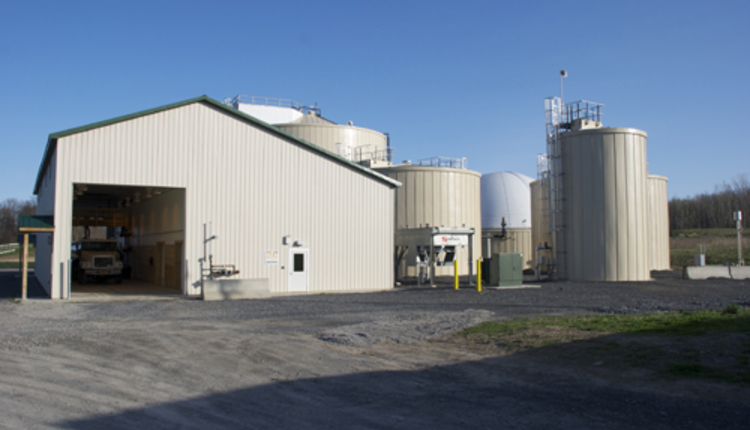 The unique setup relies on trucking to get the manure to the plant from farms 7 to 12 miles away. The facility manager admitted this will be a challenge with spiking gas prices. Approximately 35,000 gallons of manure and 8,500 gallons of food waste will be trucked in daily once this digester is at full operation. The full cost of this project was $9.7 million.
Patterson Farms
The next site was on land owned by Patterson Farms. Their digester is run from their 950 lactating cows' manure and combined with food waste from milk processing plants. Previously, they also accepted potato starch water, culled onions, and corn syrup waste. Connie Patterson is the matriarch of this farm family, and she manages the operation with her son, Jon. The digester was constructed beginning in August 2004, with operation beginning in October 2005.
The total costs of this operation's digester was about $1.5 million. They said if they did it all again, they would definitely build the digester, but they would do many things differently – like listening to warnings and recommendations from people who already run digesters.
Synergy Biogas at Synergy Dairy
The final stop on our tour was the impressive Synergy Biogas site. The digester system there was built after the dairy was constructed. They turned flush-cleaned barns into scrape-cleaned barns for the purpose of the digester. Their 1,866 cows' manure fuels the digester system which is run by a totally separate company.
Synergy Biogas runs the site, including two 100,000-gallon receiving tanks and a 74- by 72-foot digester tank. The total cost of this digester was $7.75 million. Being separate companies, the dairy farm agrees to supply manure to the digester system, while they deliver separated solids back to the farm for bedding. The farm's somatic cell count ran at about 150,000. Eventually, the digester system hopes to also supply the farm's electricity.
For more on Cornell's digester case studies,
click here
.