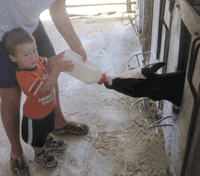 While the warm weather brings a smile to our face, it can be a time of danger. Animal projects for the summer fairs and field work equipment are signs that spring is here. In addition to the farm safety measures you implement on your dairy or farm to protect your children, it is valuable to share with others the importance you place on child safety as well.
The Childhood Agricultural Safety Network provides some guidelines in dealing with the media. Before you jump to press conferences and television interviews, think on a personal level. What photos do you have of your children or visitors on the farm? Are they "safe" looking photos where they are not in harm's way? Cute photos, which are always popular, should always convey safety. Photos with toddlers on moving tractors, near machinery parts, ATVs, or adolescents behind the wheel of the farm truck do not convey safety.
We all like to see youth enjoying life on the farm. Photos and video are shared quickly and far more often than they were in previous generations through Facebook and Youtube. Just remember when you are snapping that photo, ask yourself, am I promoting life on a farm in a safe and positive manner? I am not naïve enough to believe that every single safety measure is followed on every single farm, everyday, but when it comes to sharing the message, we need to work toward that ideal.
Here are some helpful reminders when sharing photos:
Is this task age appropriate or dangerous for this child? In the above photo you can see that the bottle is supported by the adult and the child is situated so that abrupt head movements by the calf could not injure the boy.

For this task, should the youth be wearing gloves, goggles, sturdy shoes/boots or other safety attire? A shoeless child standing next to their fair heifer might cause a giggle, but not the image we want to portray.

For those boys with their toys (tractor) shots, are the ROPS, guards, or shields in place?

Drawstrings on sweatshirts, untied shoelaces, and long, unsecured hair can be pulled into fans and augers if not restrained. Snapshots should convey personal safety, too.

Photos of people on moving truck tailgates and front mounted buckets are all "out".
What to say:
Again, while not always in a structured public forum, the topic of farm safety can surface over a family get-together or at a fair. According to the media guidelines on agricultural safety, they suggest using the word "incident" when an injury or death occurred instead of "accident". An accident is seen as bad luck or unforeseeable. But, in the majority of these cases, the situation was preventable. They also recommend not romanticizing the incident of a child's death on the farm with comments like "he or she died doing what they loved." It implies that it was acceptable to have a child in a dangerous and preventable situation.
We all want young and old alike to be safe around the farm and share the positive message with others. To learn more about conveying the positive and safe image of agriculture download the pdf,
Childhood Agricultural Safety Network's Media Guidelines.