Family Dairies USA, Madison, Wis., the Manitowoc Milk Producers Cooperative, Manitowoc, Wis., and Milwaukee Cooperative Milk Producers, Brookfield, Wis., formally announced that they would begin member information meetings to discuss and vote on forming a joint cooperative. The proposal has already received unanimous approval by all three board of directors, and it is expected members will cast ballots on the proposal by December 18. If approved, the new co-op also would be called FarmFirst, and the merger would go into effect on January 1, 2013.
Based on the Hoard's Dairyman top 50 co-op list in the October 10, 2012, issue, page 643, FarmFirst would rank either third or fourth for combined member milk (13.1 billion pounds) just behind Dairy Farmers of America (DFA), Kansas City, Mo., and California Dairies, Inc., Visalia, Calif. In either third or fourth would be Land O'Lakes, Inc., of St. Paul, Minn. FarmFirst also would rank second nationally for total farm members (5,468), just behind DFA.
"We are extremely excited about the future this effort will offer our members," says David Cooper, general manager for Family Dairies USA. "The combined size and strength of the new cooperative will provide all of our members with a deeper and broader voice in policy-making decisions, both locally and nationally. And, by combining the resources of three independent organizations, we will be able to improve efficiencies and effectiveness."
"The timing of coming together could not be better," adds Dennis Donohue, general manager of Manitowoc Milk Producers Cooperative. "The current individual financial status of all three cooperatives is outstanding. This allows the new organization to start out on very strong footing, so that we can immediately focus on growing and improving member benefits."
Offices for the merged organization would be based out of Madison, Wis., with a satellite office in Manitowoc, Wis. The co-op would have two subsidiaries: the Family Dairy USA Milk Division and the Fox Valley Quality Control Lab. If approved by members, Donohue would assume the role of general manager initially with Cooper taking on a new role of assistant general manager. Meanwhile, Jim Bird, the current general manager of Milwaukee Cooperative Milk Producers, would serve as director of the labs.
"Considerable due diligence has been done by each board," says Jim Bird, general manager of Milwaukee Cooperative Milk Producers. "Our cooperatives have shared common goals and even collaborated in business together over the years. It is a natural progression. Now, we can combine efforts that will allow us to put more resources into critical member areas that will continue to build upon the 200-plus years of combined history we have."
Under the new cooperative, the combined member representation will be divided into a total of nine districts based on membership within each district. The current 20 directors from each of the three cooperatives will transition into the new organization, helping ensure consistency in the leadership and membership voice. The plan is that all directors will serve a one-year term and follow a three-year transition plan.
Member meetings will be taking place over the next six weeks. To learn more details about the potential merger, go to www.yourcoopportunity.com.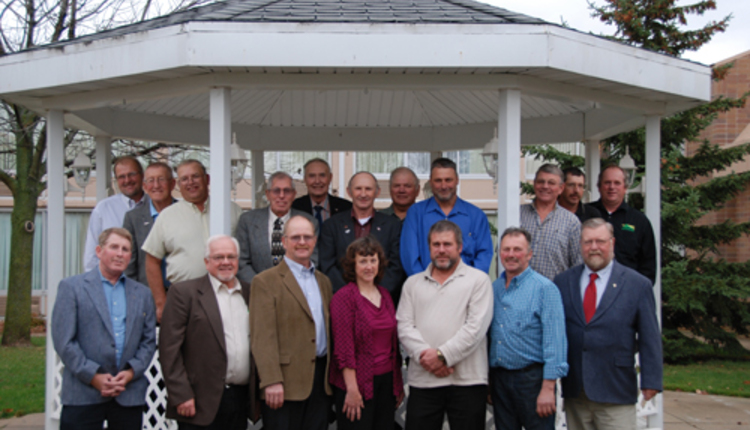 The boards of directors for Family Dairies USA, Manitowoc Milk Producers Cooperative and Milwaukee Cooperative Milk Producers have unanimously voted to recommend a unified merger for their membership. Combined, these three cooperatives could soon become the largest Midwest dairy marketing cooperative.

Pictured (L to R) Back row: Randy Geiger, Reedsville, Wis.; Francis Cherney, Milladore, Wis.; Bernard Vander Heiden, Kaukauna, Wis.; William Klink, Allenton, Wis.; Marvin Anderson, Hillsboro, Wis.; Peter Kleiman, Wilson, Mich.; Wayne Hansen, Van Dyne, Wis.; Kelly King, Edgar, Wis.; Richard Meyer, Unity, Wis.; Lee Klumpers, Waupun, Wis.; and Randy Peterson, Wilson, Wis.
Front row: Dave Schmitz, Fond du Lac, Wis.; Joe Schmitt, Holy Cross, Iowa; Ken Wunderlin, Livingston, Wis.; Kathy Bauer, Faribault, Minn.; John Rettler, Neosho, Wis.; Mark Ryan, Fond du Lac, Wis.; and David Allen, Reedsburg, Wis.
Not pictured: Tom Breuer, Hartford, Wis., and Rae Kohn, Medford, Wis.