"If dairy cows were like salmon, it would be easy to get them bred. Salmon turn red before they ovulate. If dairy cows were like deer, we would have fewer struggles, too. Deer have a conception rate nearing 90 percent; we'd breed them and move forward. But working with cows, we deal with the inherent challenges of getting them bred back."
This is how Matt Lucy, with the University of Missouri, kicked off his talk on new developments in pregnancy diagnosis at the Minnesota Dairy Health Conference.
Lucy discussed four chemical tests to diagnose pregnancy status. Pregnancy can be detected at different intervals after insemination by measuring chemicals in the blood or milk.
The ECF test (early conception factor) was reported accurate two days after insemination, but the test was later shown to be inaccurate at any time. Another test measures the biological response to interferon-tau between 16 and 18 days postinsemination. The test could be used to rapidly resynch cows but it takes 8 hours and a talented lab technician.
From 18 to 23 days after insemination, progesterone in the blood or milk can be measured. This test, what is used in the Herd Navigator system, noted Lucy, is a complete game changer. We need to have multiple tests to see if the corpus luteum has been maintained over time.
Finally, 25 days postinsemination, pregnancy associated glycoproteins (PAG) in the blood or milk can be measured. Milk pregnancy tests are recommended for use 35 days after A.I.
Where will milk progesterone and pregnancy tests take us?
In the future, Lucy noted, we may determine if a cow is pregnant before her first insemination. Timed A.I. has astronomical success when cows follow true to form. It works well if the cow behaves within the program - we get resulting high pregnancy rates. But, noted Lucy, only 70 percent of cows will respond appropriately to the program she is put on.
There will always be some cows that don't behave. If there is no corpus luteum regression, zero percent of the cows you breed will become pregnant. If the CL regresses prior to the administration of prostaglandin, you have the same odds of getting a cow pregnant.
With the use of milk progesterone tests, we may be able to determine if a cow responded properly. Progesterone should clear by the time the GnRH shot is administered. If it hasn't, the cow is unlikely to conceive.
"We need to stop breeding cows that won't get pregnant. I would much rather put them on a five-day resynch program and breed them a week later," added Lucy.
---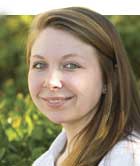 The author, Amanda Smith, was an associate editor and is an animal science graduate of Cornell University. Smith covers feeding, milk quality and heads up the World Dairy Expo Supplement. She grew up on a Medina, N.Y., dairy, and interned at a 1,700-cow western New York dairy, a large New York calf and heifer farm, and studied in New Zealand for one semester.