This summer marks the 25th anniversary of the
Hoard's Dairyman
editorial internship. To commemorate this occasion, we had our past 24 interns complete a survey this spring to evaluate our internship program. The June 2013 Young Dairymen article featured a brief synopsis on each of our past interns, along with a few sentences on what they found most valuable during their internship at our Fort Atkinson headquarters.
During the three months working with the magazine, our interns are an integral part of our editorial team. Not only do they play a critical role in preparing our annual World Dairy Expo supplement, they also compile our most reproduced page, the Top 50 Co-op List, and write our highly read Farm Flash page.
Our dairy-focused interns have come from coast to coast (Cal-Poly to Virginia Tech) to spend a summer at our national headquarters. Four of these individuals later returned to our Fort Atkinson, Wis.-based publication to serve as full-time members of our editorial staff. Outside of these four individuals, few of our interns have gone on to serve in an editorial role. However, each one has developed extensive communication skills that still serve them today.
Each of our interns provided a wealth of information related to their experiences on the editorial team. While we had to truncate their responses in our print edition, we saved the unabridged version for use online. To read where each individual's career has taken him or her since leaving our office and what they gleaned during their three months here, visit www.hoards.com/youth/pastinterns and click on their name.
This week, we welcome our 25th intern, Taylor Pires, to the
Hoard's Dairyman
editorial team. This fall, Taylor will be a senior at California Polytechnic State University, San Luis Obispo in San Luis Obispo, Calif. At Cal Poly, Taylor is majoring in dairy science with an agricultural communications minor.
Pires grew up in the rural town of Los Banos, Calif., in Merced County. From the age of 2 until a few years ago, her family had a commercial Holstein dairy farm with 500 cows. Her parents, Paul and Vicki, were partners with her uncle and grandmother. Taylor also has a brother, Logan.
---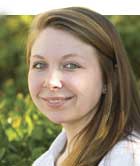 The author, Amanda Smith, was an associate editor and is an animal science graduate of Cornell University. Smith covers feeding, milk quality and heads up the World Dairy Expo Supplement. She grew up on a Medina, N.Y., dairy, and interned at a 1,700-cow western New York dairy, a large New York calf and heifer farm, and studied in New Zealand for one semester.