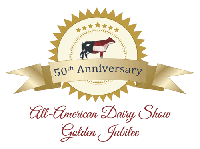 This September marks the 50th Anniversary for the All-American Dairy Show (AADS) in Harrisburg, Pa. There are six prominent families that stepped into the show ring for the duration of the event.
Sam Yoder
The first is one of the founding fathers of the AADS, Sam Yoder of Shoemakersville, Pa. He established Pinesedge Farm in the 1940s, taking over his father's beef and Shorthorn herd after returning from service in World War II.
Sam Yoder pictured during the early years of the All-American Dairy Show with three of his children (L to R): Fred, Nedra and Sam.
Sam observed several changes at the All-American Dairy Show.
Showmen only clipped the ears and tails; it was quite a few years later before they clipped heads and blended in body hair.

Exhibitors were dispersed throughout the barns without any regard to the kind of breed and Sam saw a great rapport among farmers.

Communication changed drastically, "We stood in line at payphones four or five people deep to call home for extra supplies, medicine or to talk to family," says Sam. Phyllis recalls times that she wouldn't hear from him for days. One week, she expected him to return by Sunday but he didn't drive in the lane until Wednesday or Thursday.
One day Sam and Phyllis tabulated their time spent at the PA Farm Show building; with PA Farm Show, State Show and the AADS, he spent at least two years of his life in the building. Was it worth it? "Absolutely," Sam says. "Seeing the generations come together, the positive changes in the breed and the lasting friendships, it was worth every minute."
David Patrick
David Patrick, Woodbine, Md., started showing cows when he was 11 years old. His grandfather founded the herd with a handful of animals and David's father grew the herd by adding mixed, grade cows. When David expressed interest in showing purebred animals, he and his father took a trip to Forest View Farm in Pennsylvania and purchased two Ayrshire heifers."
David and his wife Ann have seven children: Michael, Denny, Johnny, Terri, Kathy, Carol and Rhonda. David is currently in a three-way partnership. Michael and Denny handle the majority of the management. Their prefix is Maple Dell and they now milk 170 Holsteins and Ayrshires and farm 1,200 acres.
The AADS has always been "an exhibitor-friendly show," says David. "The facilities and the people are key reasons that people come back every year." David and his brother Jimmy, who passed away a few years ago, were in a partnership with Maple Dell Farms and they alternated years attending the shows. David remembers that "one person was responsible for a string of 12 to 13 show animals. Now it takes a crew of 3 or 4 to handle that many animals."
From his many years of AADS experience, David says "you see the true character of a person in the show ring. It takes a true man to stand at both ends with grace. I will admit it is more fun at the top, but I've stood at both ends and I try to do so in good character."
Marchezak family
Four generations of the Marchezak family of Twin Brook Farm, Bentleyville, Pa., have been a staple at the All-American Dairy Show. Twin Brook milks 90 cows – a mix of Guernseys, Jerseys and Holsteins.
From (L to R):
Jonathan McMurray, John McMurray, Patty (Marchezak) McMurray, Justin McMurray, Isabelle McMurray, Boehl's Am Pie Bess held by owner Jocelynn McMurray, Adam McMurray, Twin Brook Bentley Sadie held by owner/breeder Grace Marchezak, John E. Marchezak, Randi Marchezak, Jan Marchezak, Jeremy Ivcic and Jason Ivcic. Missing from the show crew are Jaimie Ivcic, Anne Marchezak, Alexis Lopez and Kristina Zacour.
Patriarch John Marchezak, along with wife Dorothy raised their three children Patty, Jan and John E., on their dairy farm tucked in the far corner of western Pennsylvania's Washington County. The family had a milk jugging operation with a door-to-door delivery route, and sold meat from the farm.
Always a fun, colorful man, John was enthusiastic about the new national show in Harrisburg. He packed up his cattle and family and headed for Harrisburg in 1964, and a long-time love for the All-American was born.
Family members have been involved in nearly every aspect of the show. Patty McMurray (John's daughter) served as the Promotion Committee Chair for the 25th Anniversary and on the Show Improvement Committee, served as a Good Housekeeping judge, exhibited and sold items in the All-Dairy Antiques Show, offered consignments to the Youth Benefit Auctions, helped initiate the show's Image Award along with John Morris and Elsie Wolff, and organized the ever-popular white pants exchange for exhibitors.
For the past 49 years, Twin Brook has been a class sponsor. A distributor for Lira Gold Health Products, John E. also supports the show through the company that has also been a long-time supporter.
The entire Marchezak family considers the All-American as a gathering spot for mini reunions between friends and family. "We get to see people we only see once a year," says Patty. "Plus, we get to see some really great cows."
Snider Homestead
Seven generations strong, the Snider Homestead family of New Enterprise, Bedford County, Pa., will make its 50th trip to the All-American Dairy Show in September.
Snider Homestead Farm, purchased by John and Amanda Snider in 1892, is now home to great-great-granddaughter Berneta (Snider) and Brad Gable and their family.
When Berneta's father Bernard and uncle Obie took over the farm, they continued to milk Guernsey cattle until Obie purchased the nearby Singing Brook Farm and began milking Holsteins.
On the original homestead they milk 122 Guernseys and 30 Holsteins. The Gables farm 400 acres.
Brad and Berneta Gable, Chris Reichard on the halter, Aaron and Amy Gable (holding daughter Bella).
Berneta and the family continue to support the show in a variety of ways. She serves on the show's board of directors and the Image Award selection committee. Snider Homestead Farm is an annual class and champion sponsor.
"We all have the same love of dairy cows no matter what breed, and we enjoy the competition to see how our animals compare," she says. "Everyone at the show is there because of dairy cattle, and we look forward to it every year," says Kendy, Berneta's daughter.
Palmyra Farms
For the past four generations, the Shank family graced the show ring with their purebred Ayrshires. William Shank, Rocky Spring's Farm, planted the tradition in the early 1940s and when the All-American Dairy Show opened its doors for the first time in 1964, the family made the trip north to Harrisburg, Pa.
William's son, Ralph, and his wife Patricia purchased an additional farm in Hagerstown, Md., and established Palmyra Farms. The passion of exhibiting outstanding Ayrshires never wavered as the Shanks passed that passion on to their children, Mary and Ralph, Jr.
Their father had a lot of faith in the Shank pair, at the young age of 16 and 14, Mary and Ralph were responsible for getting the animals cleaned up for show day and took care of the regular chores of bedding, milking and feeding. Their father kept the farm running at home and came to Harrisburg on show day. Mary appreciated the way people shared their experience and helped each other; it strengthened the bond of friendships and gave each other a respect that went beyond the rows of cattle.
Mary recalls her father's advice to "add as much value to the cows as you can."
All-American Ayshire Show in 2009: (L to R): Intermediate Champion: Palmyra Tri-Star R Ginger-ET, Mary Creek at the halter, Reserve Champion is Sunny Acres, Gregory Evans.
Showing cattle was just one way that Palmyra Farms added merit to the genetics of the animals. Showing is a marketing tool, a self evaluation on how dairy farmers measure against the competitors and a way to promote top cow families. That competitive passion continues today with a 170-cow milking herd of registered Ayrshires and Holsteins. Palmyra Farms is a partnership between Mary and her husband, Michael Creek, and Ralph, Jr. and his wife, Terrie.
Getting cows ready for the show, the competition in the show ring, the admiration for the breed are all reasons that the Shanks continue exhibiting; however "it is the friendships, networking and evenings spent sitting by the cattle and catching up with friends," that keeps them returning to AADS. "Everyone at the show has a common bond, a passion for the breed, a competitive spirit and respect for each other," says Mary.
Spring Valley
Spring Valley Farm, Westminster, Md., is well-known for their outstanding string of Jerseys. John Stiles and his wife Charlotte established the herd in the 1930s in Montgomery County, Md. The initial herd consisted of grade Holsteins and the Stiles made the switch to Jerseys when they had to raise their butterfat content or run the risk of losing their milk market
The Jersey herd grew for John and Charlotte, as did their family. Their six children (Howard, Betty Ann, Charlotte, Clifford, Wayne and Allen) were all active 4-H members. In 1951, the farm moved to Westminster, Md., where the farm is still located today under ownership of Wayne and Allen. By the time the All-American Dairy show was birthed in 1964, the family already had a superior reputation in local, state and national shows.
The Spring Valley herd has remained a front-runner at the All-American Dairy Show and won Grand Champion and Reserve Champion honors numerous times in the past five decades. Spring Valley was also awarded Premier Breeder and Premier Exhibitor banners.
One of the most memorable All-American years for the family was the flood in 1975, when the animals needed to be led to safety through the flood waters. Wayne also remembers leading four heifers through the water to the trailer and when he turned around there were only three heads coming through the water, their calf was completely submerged, for the exception of her ears. Thankfully, the group made it to the trailer including the first-place junior calf from the day earlier.
The family never let go of that passion, respect and admiration for the show ring continues their recognition of being a prominent farm family at the All-American Dairy Show. They thoroughly enjoy the AADS, appreciate the "well-run show, staff and the respect they give to exhibitors."
2002 marked yet another year of Premier Breeder and Premier Exhibitor for Spring Valley Farm, Westminster, Md. Allen Stiles, Michael Heath (nephew) and Wayne Stiles.
Spring Valley Jerseys is one of six families that have been showing for the duration of the All-American Dairy Show. When the show opened its doors in 1964, Pinesedge, Maple Dell Farm, Palmyra Farms, Twin Brook Farm, Snider Homestead and Spring Valley were there to step into the first show ring that first year. The six farms will be honored at this year's anniversary celebration at the 50th All-American Dairy Show in Harrisburg, Pa., September 8 to 12.
The entry
deadline for the 2013 show is this Friday, September 9, 2013
to avoid higher entry fees. To learn more about the All-American Dairy Show, visit http://www.allamerican.state.pa.us.
---
To read more about the Stiles Family and their Spring Valley Jerseys, see
Post 1.
and
Post 2.

To read more about the Shank and Creek Families and their Palmyra Ayrshires, see
Post 1.
and
Post 2.

To read more about the Snider Homestead and their Guernseys, see
Post 1
and
Post 2.
To read more about the Machezek Family and their Twin Brook Guernseys, see
Post 1
and
Post 2.
To read about David Patrick and his Maple Dell Ayrshire herd, see
Post 1
and
Post 2.
To read about Sam Yoder and his Milking Shorthorns, see
Post 1
and
Post2.
Read about the special events planned for the
50th anniversary in this previous post.
---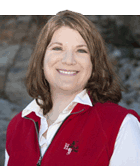 The author is the online media manager and is responsible for the website, webinars and social media. A graduate of Modesto Junior College and Fresno State, she was raised on a California dairy and frequently blogs on youth programs and consumer issues.