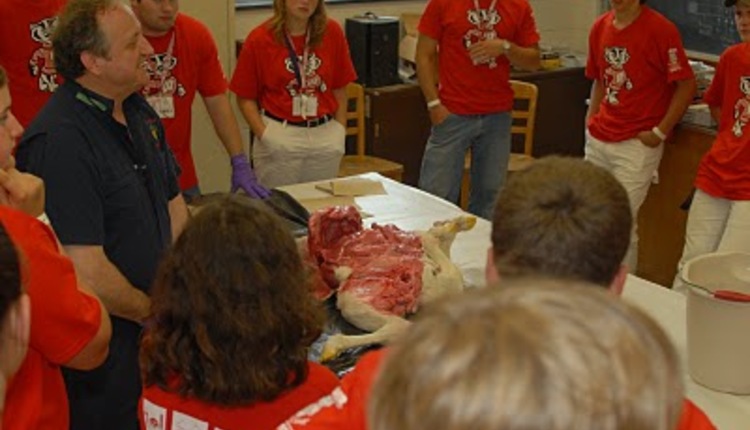 Dairy youth from Wisconsin, Illinois, and Texas came to Madison, Wis., for the 13th annual Badger Dairy Camp this June 14 to 16. The three-day camp is open to youth ages 12 to 18 years old are able to hone their judging and showing skills. It is just one of the many dairy camps available to youth across the country.
Youth may come for the judging and showing, but leave with so much more. During the camp, topics such as giving your calf a health check, feeding heifers, "roaming through the rumen", and necropsys were all discussed by dairy scientists. Camp leaders hope the exposure to the science-based topics will encourage youth to pursue a career in the dairy industry.
During "roaming through the rumen", campers can actually feel inside a cow's large fermentation vat (the rumen or first stomach) which breaks down forages. In another workshop, dairy youth could watch as a veterinarian performed a necropsy to determine why a calf died as shown in the above photo. Throughout these workshops, young people learned the proper way to care for cattle illnesses could be avoided in the first place. Finally during the "Guardians of Animal Ag" discussion, youth learned how to answer consumer questions related to animal agriculture.
If you or your son or daughter would like to attend a "Dairy Camp" in your area, contact your state's dairy science program at your nearest university or call
Hoard's Dairyman
and we can point you in the right direction.
For more information,
click here
.