For Holstein youth, this week truly is "the race to the finish line" at the 2013 National Holstein Convention in Indianapolis, Ind. Junior Holstein members have been preparing for months for the multitude of contests and interviews taking place this week. Monday's events included the dairy jeopardy contest, prepared public speaking contest, Distinguished Junior Member interviews and interviews for the National Holstein Woman's Scholarship.
One of Monday's highlights included the senior dairy jeopardy contest, in which Tony Lopes of Gustine, Calif., placed first. This win is unique for Tony, as he has now achieved a "perfect game." He has been champion in the junior, intermediate and senior dairy jeopardy competitions along with being a member of champion junior and senior dairy bowl teams. As far as this writer knows, an individual has not accomplished all of these accolades before, which makes Tony part of Junior Holstein history.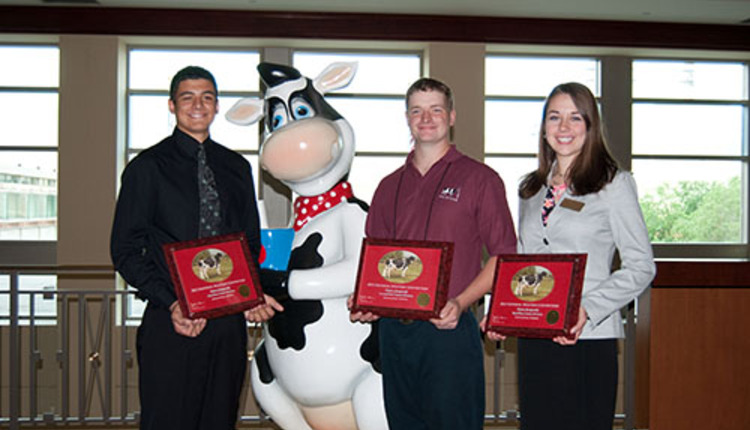 Senior dairy jeopardy winners, from left to right: First place, Tony Lopes from California; Second place, Phillip Shanks from Iowa; and Third place, Hayley Potts from Virginia.
---
Junior dairy jeopardy winners, from left to right:
First place, Connor Erbsen from Illinois; Second place, Ryan Allen from Maryland; Third place, Cynthia Hamlett from Iowa.
---
Another key part of Junior Holstein activities is the Young Distinguished Junior Member and Distinguished Junior Member programs. The Distinguished Junior Member Award (DJM) is the highest award that can be bestowed upon a junior member and is a long-standing tradition, as the contest began in 1922. Youth are recognized for their outstanding achievements both in and outside of the Junior Holstein Association. They submit a portfolio of their Junior Holstein work and are interviewed by a panel of judges on their breeding philosophies, industry trends and knowledge of the Holstein breed, among other topics. The 12 semi-finalists will be narrowed down to six, with those finalists being announced at the junior luncheon on Thursday.
2013 Distinguished Junior Member semi-finalists
---
The Young Distinguished Junior Member program recognizes those youth who are certainly on their way to becoming DJMs. They also submit a portfolio of their Junior Holstein work and finalists are chosen solely based on their submissions. They are recognized at the junior luncheon, as well.
2013 Young Distinguished Junior Member finalists
---
Monday was a jam-packed day and today promises to be as well with the Dairy Bowl competitions. These busy youth are learning, developing themselves and making new friends along the way. There is no doubt the dairy industry's next leaders are among these shining stars. Stay tuned to see what they accomplish next!
---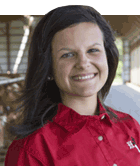 The author is the 25th Hoard's Dairyman editorial intern. She will be a senior at California Polytechnic State University in San Luis Obispo. At Cal Poly, Taylor is majoring in dairy science with an agricultural communications minor. Pires grew up on a 500-cow dairy in Merced County, Calif.