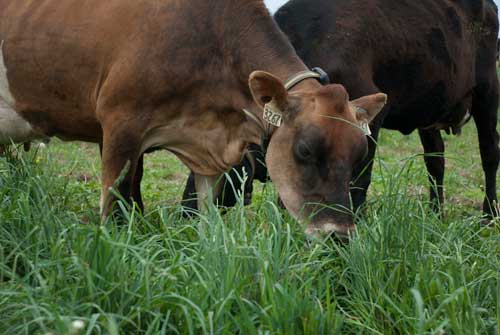 If you fail to plan, you plan to fail, said Stacey Hamilton, dairy specialist with the University of Missouri Extension, at their grazing conference last week. Designing a grazing system takes thoughtful and logical consideration, but it doesn't have to be complicated. In fact, Hamilton encouraged producers to formulate their grazing plan by keeping the acronym EASY in mind. EASY stands for:
E
nvironmental - Does the grazing strategy fit your terrain and meet your forage needs? "The goal is to leave the land better than you found it," said Hamilton.
A
gronomic - Is the pasture a good mix of complementary species that optimize yield and quality? A pasture needs to adequately feed your cows.
S
imple - "Doubling your forage species increases your headaches," said Hamilton, "but very few places in the United States can grow just one type of grass all year long." Farms need to find grasses and legumes to fill their feed needs throughout the year, but the simpler the mix, the easier to maintain.
Y
ours - Lastly, the pasture must meet your needs and objectives. You can follow the recommendations of others, but in the end it needs to fit your goals.
Ultimately, the use of pasture should be an economically beneficial method of supplying a certain percent of the herd's nutritional requirements, said Hamilton. The bottom line is that you need a plan.
The same goes for crossbreeding, explained Ted Probert, another dairy specialist who spoke at the conference. If you choose to crossbreed, define your breeding goals. Decide what breeds you will have, what you will crossbreed with and how you will select sires. Establish your criteria, and stick with it. The decisions you make now are decisions you will live with in the herd for years to come, he noted.
To comment, email your remarks to intel@hoards.com.